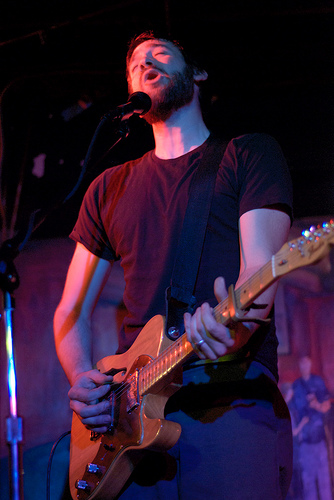 I can guarantee you that tonight's show at the Tractor will be the best $6.00 you spend all week. Period.
I make no bones about the fact that my inner sad bastard has had a love affair going with Pablo Trucker since about five minutes after I met Seattle. Spending endless mornings before work at Victrola up on 15th for my first few months in town, I caffeinated across the bar from Andrew Rudd — who I knew only as a raging barista who worked in a music shop. Come to find out, he was a percussionist (and then one-half) of the band Pablo Trucker, who write some of the saddest songs I've ever loved to be slain by. Doppio, swoon, ache. Lather, rinse, repeat.
Cut to two years later, a third band member, and all the other things that have evolved since. We've gone from mornings on the Hill and a spot during Jack Wilson's residency at the Sunset in '08 to local and regional tours (including SXSW this year, among others) and a headlining spot at the Tractor. Which is the point of this post: you can catch Pablo Trucker at the Tractor tonight, doing their stripped-down indie.americana big-guitar ache-rock from a legitimate local stage. 21+, as usual.
For $6.00. Yes, six. Six dollars. Which means if you're anywhere within travel-able distance to the Tractor tonight, you've got no excuse to miss this show. And if you need some more convincing, well, check this out.
We'll see you in Ballard!