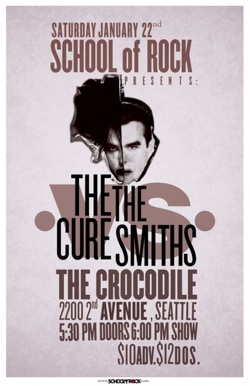 My brain fell out of my head when I saw the poster for this show, because it combines 3 things I love to death: the Seattle School of Rock, The Smiths, and The Cure (ok, so secretly maybe I want The Cure to win).
Head over to The Crocodile tonight at 5:30pm to see a bunch of rockin' kids (ages 7-18) take the stage and duel each other with vintage Goth melodies. It's totally unfair that I didn't get to go to rock school when I was young, but at least I can live through these guys vicariously!
And I know I already recommended Another Rainy Saturday's show for tonight, but I also have to recommend this because SERIOUSLY. This show is going to be the most adorable thing ever in the history of ever. Also it starts so early you'll totally have time to go to both!
Saturday, 1/22 @The Croc
Doors @5:30pm/ Show @6pm
Cover: $12 at the door
All Ages