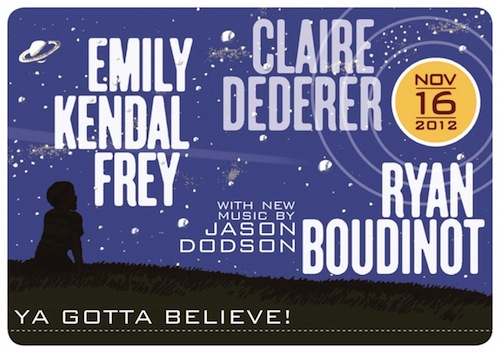 We wanted to give some love to the Richard Hugo House this week, because it's amongst our favorite artistic community venues, and we don't talk about it enough!
On Friday, November 16, as part of the 2012-2013 Literary Series, the Hugo House is hosting writers Ryan Boudinot ("Blueprints of the Afterlife"), Emily Kendall Frey ("The Grief Performance"), and Claire Dederer ("Poser: My Life in Twenty-Three Yoga Poses"), who will lead a discussion of what to believe – and why Ya Gotta Believe!
With new music created by Jason Dodson of The Maldives, this event is going to be something super-extra-special, and super imaginary!
You should definitely snap up some tix online now, before it sells out.
{Ya Gotta Believe! | Richard Hugo House | Friday, 12/16, 7:30pm | $25 general, $20 HH members | All Ages, Bar with ID}