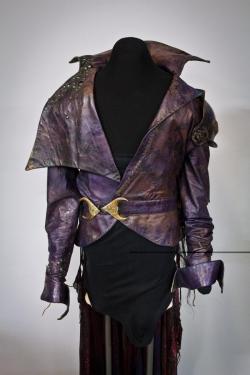 The "Can't Look Away" exhibit will always be my favorite, but the third piece (with Icons of Science-Fiction rounding out the trilogy) of EMP's new pop culture installations is also really impressive.
Fantasy: Worlds of Myth and Magic has a little bit of everything — from the original pages of J.R.R. Tolkien's original manuscripts, to costumes from The Wizard of Oz, Labyrinth, and The Princess Bride, to my most favorite piece: an interactive dragon that doesn't like you messing with his tail. And there is SO MUCH TO SEE, whoamygod.
Stepping through a big castle door deposits you into a completely separate world from the rest of the museum. Forest-y sounds are piped in, and you're surrounded by the branches of the exhibit's centerpiece: a giant tree plated in silvery scales that also serves as a Wizard's library, where you can sit and read books on a table-sized tablet, or watch fantasy writers talk about creating fantasy worlds on the large video-screen fireplace.
There are also a couple of kid-sized passages alongside adult-friendly arches that lead from room to room, and the information kiosks are a convenient height for the little ones. Kiddos are going to love this exhibit as much as fantasy-loving adult fans will; especially after they discover the "make your own map" section, where you can create your own fantasy world, name it, and have it printed to take home for $9.
The wall of costumes and the Shadows & Light room is probably where I spent most of my time, gazing at the Highlander sword, which is paired with the six-fingered man's glove next to his own sword, dueling under glass with Inigo Montoya's. The music in this room switches from "good" to "evil", which is a pretty cool way to frame the awesome stuff contained within. There's also a mini gallery with some boss fantasy artwork, and a metal firefly sculpture which will show video within its giant, bulbous eyes.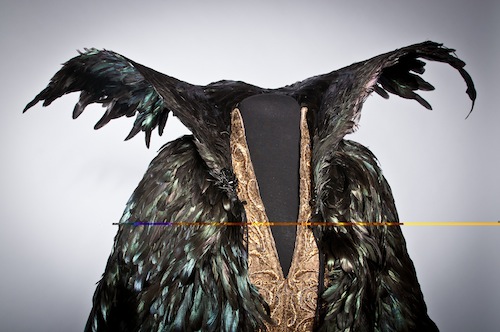 Everything is structured around Archetypes (i.e. Hero, Witch, Damsel, Companion), which I LOVE LOVE LOVE: there are kiosks in the front room where you can explore each archetype on a tarot-card art rendering, read about it, and see examples of them in pop culture media. The tarot card theme is then present throughout the gallery, affixed to each piece so you can see how it all ties together.
The exhibit officially opens this Saturday (4/27), but you can attend the opening night party on Friday, 4/26 and be among to first to experience some serious Nerdvana. The Quest: Fantasy Exhibit Opening Adventure party will include access to the exhibit, game play by Card Kingdom and Wizards of the Coast, sword-fighting presentations, spotlight talks with fantasy big-shots, photo ops on THE IRON THRONE from Game of Thrones, cider, mead & grog tastings for the 21+ crowd, and nonalcoholic butter beer for the little ones. Costumes are encouraged, just FYI.
See you there? (I'll be the one on the Iron Throne, sipping mead and channeling my best Cersei bitch-face)
{Quest: Fantasy Exhibit Opening Adventure | Friday, April 26 | 6:30pm at EMP Museum | $22 GA | $10 Youth & Students | $12 EMP Members | $6 Youth Members | Tasting tickets: $10 adv, $12 at bar}