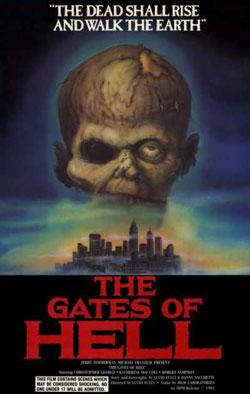 YES. It's October! And that means lots of lots of horror movies screening around town. I'm particularly excited for Grand Illusion Cinema's gory programming, which kicks off this weekend with some Italian horror and Grindhouse magic.
Gorgeous 35mm and 16mm prints, a small, intimate setting, and some cheap popcorn! IMHO, there's no better way to see these films. $12 gets you a seat, and your money goes to a great, local, independent theater.
Here's what I'm most excited about, but there are horrific screenings almost every night, so check their site for the full schedule!
Saturday October 5, 8pm
Portland's Grindhouse Film Festival Presents 35mm Exploitation Mayhem! Organizer Dan Halsted will be in attendance.
The Grindhouse Trailer Spectacular
Featuring 65 minutes of amazing grind house trailers from the '60s and '70s, including Italian horror, blaxploitation, hicksploitation, sexploitation, kung fu insanity, revenge films and more! I didn't even know some of those 'sploitations were a thing. You learn something new every day, huh?
Gates of Hell (aka: The City of the Living Dead)
A surreal masterpiece by Italian horror-master Lucio Fulci, which I AM SO EXCITED ABOUT. Rotting dead feasting on the living! Intestines everywhere! A creeptastic soundtrack! And my personal favorite: THE HEAD DRILLING SCENE.
Monday October 14, 7:30pm
Killer Klowns from Outer Space + The Best Film You've Never Seen book signing with Robert K. Elder & Skype Q&A with Director Stephen Chiodo
Okay, seriously. If you've never seen Killer Klowns from Outer Space, IT IS the best film you've never seen. So go see it. It's comedy-horror gold, and the special F/X are gleefully hilarious. And yes, the Klowns, though funny, are also SUPER scary. Because, clowns.
Also happening, Robert K. Elder gathered a bunch of directors up to talk about their favorite forgotten films in his book (which includes KKFOS), and will be on hand to sign copies and into the movie, which is a pretty rad bonus. But even better: the director of Killer Klowns, Stephen Chiodo, will do a post-screening Skype Q&A! AWESOME.
Friday October 18 and Saturday October 19
Birth of the Living Dead (6 & 8pm) and Night of the Living Dead (10pm)
YESSSSSSSS! A documentary on George A. Romero's Night of the Living Dead, followed by a screening of the film on 16mm? Sure, the doc's on blu-Ray, but who cares? The film is on FILM. FILM, people! I don't think I've ever seen Night on actual film before, which is pretty thrilling. And Birth of actually runs through 10/24, but Romero's classic is only showing that weekend so make sure you buy a ticket before it's gone.
Friday October 25 and Saturday October 26, 8pm
HELLRAISER
One of my favorite horror movies EVER, on 35mm!!!! Clive Barker's Hellraiser features a ton of amazing 80's fashions, some awesomely cool Cenobites, and one of the best horror movie villains every created — and no, I'm not talking about Pinhead. He's fine, but I'm talking about the hammer-wielding Julia, who murders unsuspecting gents looking for a good time in order to resurrect the best lover she's ever had.
Side note: After you see it on film, I highly recommend heading to Scarecrow Video to rent the DVD with Clive's commentary, because it's one of the best commentaries I've ever listened to. SO good.
Monday October 28 and Tuesday October 29
Maniac Cop (7pm) and Maniac Cop 2 (8:45pm)
"You have the right to remain silent … forever." It's been awhile since I've watch Bruce Campbell in the bloody action-horror Maniac Cop, but I remember it being pretty damn great. Oh, and, I've never seen the sequel! Which also has Bruce Campbell, and Claudia Christian (drooolllllllllll)!
I mean … seriously, you guys. The Grand Illusion is THE BEST.