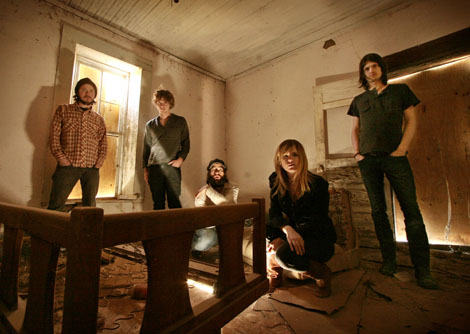 There are an assortment of events taking place on New Year's Eve in Seattle, ranging from fireworks at the Space Needle to a Bollywood Masquerade at the Nectar Lounge in Fremont. As usual, there are a host of concerts around town, and our recommendation is one that is certain to include no party favors and a paucity of prom night attire: this year, celebrate the darker side of things with The Black Angels at The Moore Theatre. Their latest LP, the fantastic Indigo Meadow, came out earlier this year and it continues their murky trajectory through all things psychedelic.
One part Velvet Underground, one part Thirteenth Floor Elevators, and with a healthy tablespoon of Spectrum, The Doors, Love, Red Krayola and other late 60s influences, The Black Angels have been releasing dark, lysergic garage rock since 2005, when our very own Light in the Attic Records picked them up. Four full-lengths later, they are continuing their stride with little sign of diminishing quality. The only difference is that their third and fourth releases are slightly more pop-oriented than the first two, but the ingredients are all there.
The Black Angels stop in Seattle fairly frequently and always put on an excellent show. Their hypnotic live performances are powerful, featuring kaleidoscopic light shows and projected images, a perfect setting for their music. Whether you are a fan or a bystander, this is the perfect opportunity to catch a great show — and the historic Moore Theatre is a wonderful venue to see anything at, really. It is gorgeous and is not too large (or small), providing the right amount of intimacy and charm.
Indigo Meadow is a sixties classic that was released only a handful of months ago. "Broken Soldier" is a highlight. The guitars echo and shimmer along to militaryesque drumming, while singer Alex Maas repeats the line It's hard to kill when you don't know which side you're on. "Holland," a melancholy portrait, is led along by organ and winding and prominent bass guitar. Dolefully, Maas sings the line I'd rather die than be with you tonight as a sound reminiscent of Pink Floyd's A Saucerful of Secrets is played by the band. Album closer, "Black Isn't Black" rounds out the record with a succinct bang, sounding like a sinister "Stand by Me." The ominous fuzz guitar and drums punctuate the vocals as a flickering single light bulb in a warehouse. This is exactly how one can imagine them performing the track.
Join us at the Moore on December 31st, with special guests La Luz rounding out the bill. The show is 21+ and tickets are available here.