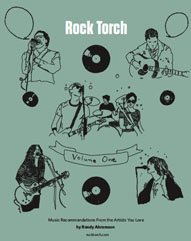 If you haven't yet discovered Rock Torch and are an over-the-moon audiophile or bibliophile, read on — because this is one of the best ideas we've heard of since chocolate and peanut butter came together in an unholy union: Rock Torch founder Randy Abramson came up with the brilliant idea to ask musicians we love about which artists inspired/influenced them and why, and then put all the answers in a great big wonderful book.
Not only do they discuss in-depth what makes the music so off the charts, but also give album/listening suggestions by their recommended artist as a guide for new listeners. So that means you get the straight dope from Mike Doughty about Phil Lynott and Thin Lizzy, Wanda Jackson writes about Elvis (is that simply perfect, or what?), and Ritzy Bryan from the Joy Formidable extolls the virtues of The Smiths. The list just goes on and on. Our own girl crush and local goddess, Rachel Flotard, contributed a piece on Dave Grohl and The Foo Fighters. Way to represent, PNW! Did we mention that this first volume of Rock Torch contains over one hundred essays? That is some serious brain candy for all the music lovers out there. The full color illustrations by Nicolas Nocera that accompany each piece make this compilation extra sweet.
And as if all that ain't enough, ALL the profits from the book go to charity! Sales benefit the Sweet Relief Fund, which provides financial help to musicians who are dealing with health or age related problems, and The Robin Hood Foundation, an organization dedicated to helping the victims of Hurricane Sandy.
Rock Torch Volume One is available as a Kindle e-book for $9.99 or good old fashioned paperback version for $31.99 thru Amazon and CreateSpace. For more info and purchasing, follow this link.