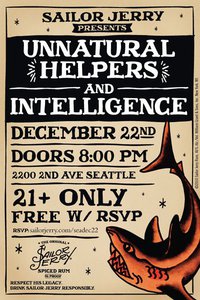 Chances are, if you live in Seattle, you may have played in the Unnatural Helpers. I hope to someday play in the Unnatural Helpers (note to band: slow the songs down 80% and I am so down). A few things I enjoy about this band: their songs are short, which means you get more rock for your buck – which is economical! They care about your wallet! Also, I heard Dean Whitmore likes to save baby seals from poachers in his spare time. And their songs make you want to fist pump  and jump around.
The Intelligence's Boredom and Terror is one of my favorite albums. It would do fans of sloppy post-rock (with a dab of noisy) well to check this band out. If you're a fan of the Helpers there's a good chance you will love The Intelligence. If you like music in general, there's a good chance you will enjoy them. Get what I'm saying here? The Intelligence + Unnatural Helpers = YES SIR MAY I HAVE ANOTHER?
AND Sailor Jerry is bringing this all to you on Wednesday. For free. At the Crocodile. Doors at 8pm. If you can't buy booze without a fake i.d. then don't bother coming. You just have to RSVP here!
Oh! I almost forgot! Show up way early because you'll want to start the night off right with Seattle's own Dancer & Prancer. I heard there might be free pizza – which you will only get if you watch their set! Get in the holiday spirit! Surf rock Christmas jamz for all!