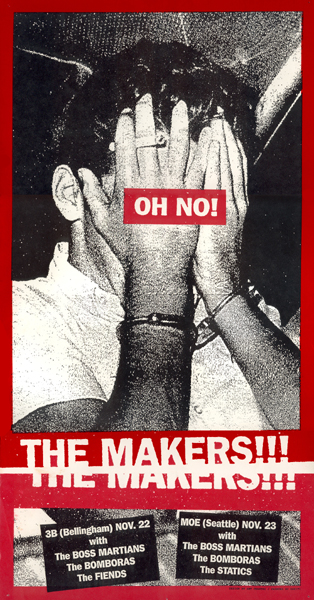 (This Friday, December 10, from 6 to 9 p.m., Damaged Goods will be throwing a party for influential from-the-underground arts and music scene picador Art Chantry, featuring a humungous assortment of his legendary and inspiring poster art.)
For the first time in 15 years, Art Chantry is having a Seattle showing! And it is the biggest assortment of work in his career. It only happens for a couple of days, starting this Friday night, but many rare posters will be on sale during the event.
So why should you come out?
Do not miss this: Some artists define a city or a scene just as well, if not more so, than all the journalists and self-appointed experts who traditionally report on it. Chantry is one of those people whose past-is-present and future-is-now artwork is instantly recognizable to even those who may not know his name, or that he is one of the most innovative and knowledgeable creators and thinkers to come out of Seattle. For example, those who loved Charles Peterson's wonderful grunge-defining visual documentation (of Nirvana and Soundgarden, especially) were probably blown away if they caught the photographer in the recently released Jesse Bernstein documentary I Am Secretly An Important Man getting conversationally excited describing the "back in the days."
Art Chantry can tell you all about the dark years of 70s realism sliding into the reactionary reign of Reagan (and the daily protesting of his POV), the weird margins of the local art world blending with pop surrealist manifestos and bizarre scrapings against fine arts hoaxes. He can tell you who did what and why it mattes now, about just about anything having to do with music and painting and political subtexts from our region.
And now, this Friday, December 10-Sunday, December 12, you can actually see how his work shares this as well, and maybe ask him a few questions yourself as he will be in the flesh at Mark Pickerel's world of wonderful wares, Damaged Goods. Be polite though to Art and keep it short, because you're going to want to spend a lot of time staring at the Chantry sweetness to be hung all over the walls surrounding the shop.
As Pickerel's PR puts it, Chantry "produced hundreds of concert posters, record covers, advertisements, and iconic logo work" and is "easily Seattle's most famous and prolific exports. Having served as the art director for Seattle's Rocket Magazine (R.I.P) during it's most celebrated period, it was only natural that he would go on to produce hundreds of designs for may of the bands featured in its pages – Hole , Queens of the Stone Age, The Breeders, The Mono Men, Goodness, Modest Mouse, The Flaming Lips, The Oblivions, The Sonics and more Sub Pop releases than we could possibly mention here!" Chantry's work deals humorously but lovingly with the transgressive, and torments bullies at all levels of society. Yet it's been shown in The Museum of Modern Art, The Louvre, and The Smithsonian.
Artist reception from 6-9 p.m. Friday December 10 and the show runs through December 12 at:
Damaged Goods
2316 2nd Ave
Seattle WA 98121