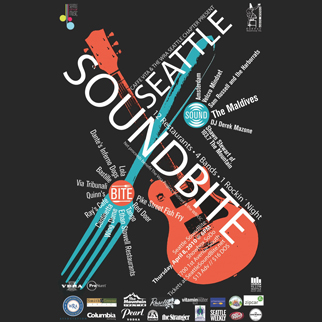 I've been thinking a lot lately about the intersection of food and rock music. It seems natural as everyone eats and in a lot of ways, high-profile chefs have become "rock stars" in their own right (see Bourdain, Anthony, et al). It's not just that, though, as the food scene in Seattle has become a powerful force in this city and they often have the same people intersecting and interacting with one another. There's also the popular dinner series The New Guard (ran by some good friends of mine), who combine food, music and visual art in a monthly dinner.
It's natural then that there would be an event like Seattle Soundbite, which has its third annual event tonight (Thursday, April 8) at Showbox Sodo. It it headlined by The Maldives and features a bunch of different (and diverse) restaurants as well as performances by some local bands that also have ties to restaurants. The press release is after the jump.
The Seattle Chapter of the Washington Restaurant Association and Caffe Vita Coffee Roasting Company present the third annual SEATTLE SOUNDBITE. Twelve Seattle restaurants will sell a rockin' lineup of "street-style" bites, alongside the tasty jams of the winning bands from our first online public vote! Also on the evening's menu is a special headlining performance by Seattle country-rock musicians, The Maldives (whose members work at Fuel Coffee, Conor Byrne and Tango), with Shawn Stewart of 103.7 The Mountain as MC and DJ Darek Mazzone of KEXP keeping the party going between sets.
SEATTLE SOUNDBITE will be held Thursday, April 8, 2010, at the Showbox SoDo, 1700 First Avenue S., Seattle, Wash. Doors open at 6 p.m. Tickets are $13 advance / $16 DOS through all Ticketmaster outlets and the Showbox box office. Food and beverage not included in the ticket price. This is a 21+ event. Proceeds benefit The Vera Project, ProStart® and the WRA Seattle Chapter. This Seattle City of Music event is unique in that only Seattle musical groups with at least one member working in the foodservice industry were eligible to audition. The winning acts slated to perform include (restaurant affiliation noted in parentheses):
1.  Amsterdam (The Melting Pot)
2.  Velcro Mindset (Glendale Country Club)
3.  Sam Russell and the Harborrats (TASTE Restaurant at SAM)
A sampling of each band's music is available at www.seattlesoundbite.net.
Why SEATTLE SOUNDBITE? The flexible schedules and sociable atmosphere of restaurants provide an attractive environment for musicians to support themselves while allowing them time to rehearse, perform, record and tour. SEATTLE SOUNDBITE was created to highlight the unique relationship that restaurants and musicians share, and celebrate hard-working foodservice employees. The charities this event supports reflect a commitment to developing youth both in the music and the foodservice industries.
Participating Restaurants: Bastille, Cantinetta, Dante's Inferno Dogs, Ethan Stowell Restaurants, Lola, Pike Street Fish Fry, Quinn's, Ray's Café, Red Door, Tango, Via Tribunali, and Wing Dome.