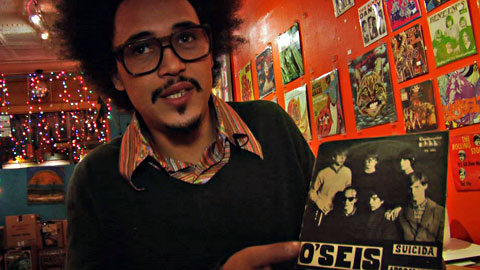 Beyond Ipanema isn't a documentary about the excellent Brazilian music that people in the US should know about, it's about the Brazilian music that Americans already know about, mostly. In 90 minutes, director Guto Barro tries to tell the story of how a lot of Brazilian artists are revered in the west while their home country is largely indifferent. Some are largely successful (Carmen Miranda, Sergio Mendes), some obscure (the David Byrne-approved Tom Ze), some have been covered here on TIG.
The movie is always fascinating and informative. The record in the picture above sold for $5000 because it features members of Os Mutantes and is very rare. The histories of Tropicalia, Bossa Nova and Samba are especially interesting, and while I wish they went into more depth, that's for my own future research. The film has its funny moments, like with CSS wondering out loud why people think their songs are sexual (I'm sure we're reading too much into song titles like "Music is my Hot, Hot Sex" and "Let's Make Love and Listen to Death from Above").
After the film let out at SIFF Cinema, I paid it the best compliment I knew of (beyond the "5" I gave it on my ballot as I was exiting the theater): I walked over to Easy Street Records and bought a Bebel Gilberto CD.
{Beyond Ipanema plays SIFF at the Kirkland Performance Center at 5pm on Friday, June 4.}