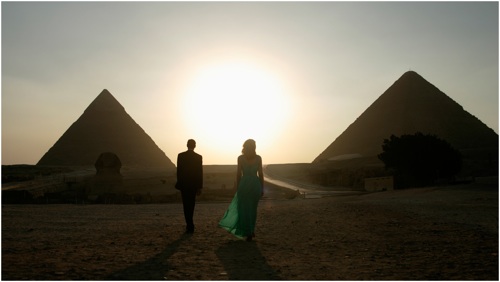 I wasn't sure what to expect going in to Cairo Time, given that it was billed as a "will they or won't they" romantic comedy, but I left extremely satisfied.
Editor and journalist Juliet (played by the magnificent Patricia Clarkson) is in Cairo awaiting a vacation with her husband Mark, whose arrival is unfortunately delayed by political issues. Mark's friend Tareq (a smolderingly handsome Alexander Siddig) arrives to pick Juliet up instead, soothing her disappointment and getting her settled in to her posh hotel.
Amidst Tareq rescuing Juliet from boredom and packs of men following her on the street, the two begin to form a strong bond. And while it's true that they had amazing chemistry together and there was palatable tension between them, I felt like the film was more about Juliet's journey and how her time in Cairo changes who she is.
There's a definite Lost-in-Translation'y vibe to this, coupled with amazing shots of both the city and people of Cairo. Beautifully filmed and superbly acted; I'll definitely see it again and will most likely buy it for keeps when the DVD is released.
{Cairo Time screens at SIFF May 30, 7pm and again May 31, 12:30pm at Uptown Cinemas}