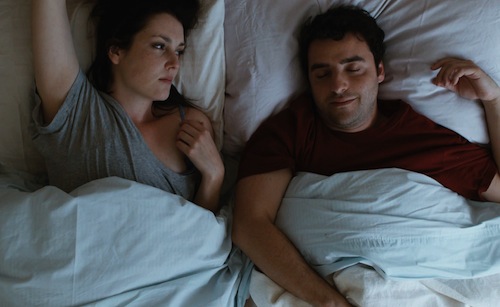 Reading the description of Teddy Bears made me think that maybe I didn't want to see it. A movie about a guy trying to convince his friends to sleep with him so he can cure his depression over the death of his mother? I mean, what. This sounds like one of my ex-boyfriend's brilliant ideas (jk! kind of). COME ON.
But! The cast. Ohman the cast. The amazing Melanie Lynskey (I still obsess over her guest spot on The Shield … among other things), instantly likable David Krumholtz (Mr. Universe!), hilarious Gillian Jacobs, wide-eyed cutie Jason Ritter, the only good thing about Flashforward: Zachary Knighton, and Ahna O'Reilly?!?!? Whoa. And I also took note that it's co-directed by Thomas Beatty and Rebecca Fishman. A male/female team, sharing directing duty? That pushed me over the edge from "maybe" to "YES."
And boy am I glad I said YES.
Krumholtz plays Andrew, the aforementioned guy who just can't seem to shake the depression that's settled on him after this mom's long, painful death. Focused on the idea that only a "wave of love" all at once will heal him, he invites his best friends out to a house in the middle of the desert and proposes that the three women (his girlfriend, Hannah, played by Lynskey — and his other friends' girlfriends) have sex with him. Everyone laughs it off initially, but as the evenings and days go on and Andrew doesn't let up, it starts to affect the group in unexpected ways.
And this is where having a kick-ass cast makes the difference between a forgettable dark comedy and a great one: every single person in Teddy Bears is acting the hell out of every scene. You can see each emotion play out clearly, and yeah: you really, really, really, get to love these characters — and in some cases, hate them. Even the small parts are awesome (French Stewart! Dale Dickey!).
I also love that the proposal never becomes a "will they or won't they" thing; instead, the film moves from character to character, exploring how the it affects each one and their relationships with the others. It's equal parts funny and sad, and it's beautifully done. Nice job, guys.
{Teddy Bears screens at the 39th Seattle International Film Festival on Saturday, 6/1, 9:30pm, and again on Sunday, 6/2, 3:30pm at SIFF Cinema Uptown. Directors Thomas Beatty & Rebecca Fishman, and actors Gillian Jacobs, Zachary Knighton, David Krumholtz & Melanie Lynskey (!!!) are scheduled to attend both showings}