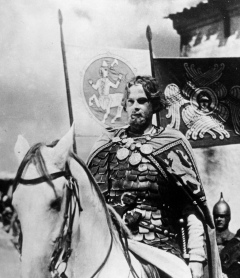 Friday, June 13 was a lucky SIFF day, with two live-scored archival films providing a nice break from traditional festival venues and fare. My evening began with Alexander Nevsky, about the titular 13th-century Russian prince who led a ragtag army against a Teutonic invasion, which screened at Benaroya Hall along with a thrilling performance of Sergei Prokofiev's cantata arrangement of his 1938 film score. The Seattle Symphony Orchestra (and the chorus, and the mezzo-soprano) were in glorious form under conductor Xian Zhang.
Afterward I scampered down the block to the Triple Door, thinking my cinema evening couldn't get any more enchanted, and ended up being blown away again (and in a whole different way) by The Album Leaf's live score to the 1927 F. W. Murnau film Sunrise, a crazed fever-dream of a morality fable about a married farmer vexed by an evil city-gal temptress. Where Nevsky was elegant, refined, and melodic, Sunrise was brash, crazed, and wonderfully messy. And both were absolutely brilliant.
By comparison, earlier offerings in week 3 were a bit lackluster overall. Especially on the documentary front: Saving Luna (nicely-shot but overly-narrated recap of the titular Vancouver Island orca's tragic tale), Walt & El Groupo (oddly dull account of Walt Disney's famed goodwill trip to South America in the 1940s) and Pierre Rissient: Man of Cinema (star-studded but pitifully-produced profile of the highly influential international-cinema icon) all had their moments, but ultimately left me feeling unsatisfied.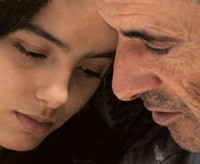 The same cannot be said for The Secret of The Grain, the best fiction film I've seen at SIFF '08 and easily one of the 10 best films I've seen so far this year. The multilayered story follows an immigrant Turkish family living in a French Mediterranean port town — with all their struggles-in-an-unwelcoming-land drama this setup entails — and dealing in various ways with themselves and each other. The main characters are a depressed, careworn, sixty-something dock worker patriarch who dreams of owning his own restaurant, and the take-no-shit daughter of his longsuffering ladyfriend; two brilliantly-drawn characters in an exquisitely intricate, gorgeously observed, unaccountably mesmerizing drama that's by turns funny, frustrating, and overstuffed. Just like my family (and probably yours too).
On tap this weekend are Jolene (Sundance darling about a gifted woman's 10-year quest for love and independence), Towelhead (Alan Ball's feature directorial debut about an Arab-American girl coming of age in Texas during the first Gulf war), La France (gender-bending WWI thriller), Fugitive Pieces (Jeremy Podeswa's long-awaited follow-up to The Five Senses), and Apollo 54 (Italian homage to 1950s sci-fi).
Yep, it's feeling like SIFF '08 is winding down. And still I can't believe there are only two days left.