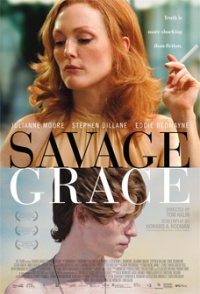 I have found a summer obsession and its name is Savage Grace. The film — starring Julianne Moore as Barbara Baekeland, a real-life artist and socialite who married a Bakelite plastics heir in the '40s, lived a charmed jet-set existence in the '50s and '60s, and was murdered by her son (and, ahem, sometime lover) in the early '70s — screened at SIFF on Sunday, and I loved every sick and wonderful minute. When it ended I nearly hurt myself rushing downstairs to Pacific Place's Barnes & Noble to get the nonfiction source book, a 500-page tome first published in 1985 subtitled The True Story of Fatal Relations in a Rich and Famous American Family.
Does that give you an idea of what we have here? As I post this, I'm halfway through it, and wow. I have ongoing lists of period novels to read (by authors acquainted with the Baekelands) and research to complete (on their wealthy, bitchy friends and cohorts) in an effort to gain more understanding and, yes, feed my horrified delight. The Baekelands are gonna keep me busy for a while.
But back to the film. It's a lurid, brooding, jaw-dropping, sublimely fucked-up mood piece that isn't always easy to watch. And I'll grant that it doesn't quite have the dramatic momentum or psychological gravity this deranged epic requires (especially in the film's last five criticial minutes), but who cares? This is Julianne Moore as a glammed-out momma-monster travelling around dazzling mid-century London, Paris, Italy, and Spain, trying to get a handle on her bastard husband and make her homosexual son a "man" by seducing him. As if you don't want to buy your tickets immediately!
It would take much more than a 2-hour feature to even hint at what really went into the Baekelands' tragic, decadent decline; I wish the film's director, Tom Kalin (his first film since the cult 1992 Leopold & Loeb drama Swoon) had made a 6-hour HBO miniseries instead. But he didn't, and Savage Grace is what we have and what you can't miss. (For a lil' sampling, watch the trailer here.)
Following that tough act on Sunday were Ben X (a good-not-great Belgian film about video games, Asperger's syndrome, teen bullying, and overwrought revenge) and the fantastic Once Upon a Time shorts program, highlights of which included Arctic Inuit murder tale Sikumi, quirky Scottish romance The Ice Plant, and masterfully observational family-in-disrepair drama Alexandra.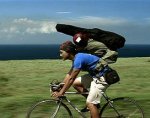 The workweek was light on SIFFage. Monday I caught the very touching Taiwanese film Island Etude, the first directorial effort by longtime Hou Hsiao-Hsien cinematographer Chen Huai-en. The episodic, freeform storyline follows a hearing-impaired student as he embarks on a bicycle journey around the island and meets an array of colorful characters at various crossroads of their own. It's a lovely road movie, a paean to unbridled adventure, and an affecting love letter to Taiwan and its people.
What followed the rest of the week were four ok-to-good international films: A Secret (French award-winner about a man's search for the truth about his WWII-era Jewish family), Brick Lane (Bangladeshi housewife transplanted to London has a nasty affair with a hot hot hottie in the wake of 9/11), The Wave (broad, overly emphatic dramatization of Ron Jones' late-'60s Palo Alto high school "third wave" experiment, moved to contemporary Germany — the weakest film of this bunch), and Saturn in Opposition (which approaches a few moments of the greatness achieved in the director's 2004 yummy Italian masterpiece Facing Windows).
One week left! I'm off to read one more chapter of Savage Grace before my next screening…