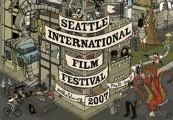 After a fun (and boozy!) opening night gala, SIFF's Memorial Day weekend screenings went remarkably well, all things considered. Few of us realize what goes into pulling of an event of this size and scope (print traffic alone is a miracle of project management), and I imagine the first week is especially tough for the SIFF staff and volunteers. So if and when you do your SIFFing, be nice to them.
Now for some thoughts on this year's SIFF locales.
In keeping with last year, the Neptune (heretofore referred to as "the Nep") continues to be a comfy and well-managed venue. Their very effective entry system, with pass-holders queuing and entering at a back entrance while ticket-holders start at the front doors and stretch 'round the corner, keeps the surrounding sidewalks navigable and makes foot traffic in the theater much smoother than it would be otherwise. Which means people are seated on time, which means screenings go as scheduled, which means everyone is (usually) happy.
If only the Harvard Exit, with its mob scenes of blocked sidewalks and street spillage, would take a cue from the Nep. My suggestion: keep the pass-holder queue as-is (front door), but start the longer ticket-holder line at the back entrance. Yeah, it may end up stretching to the Broadway Market QFC, but it would ease the chaos outside (and inside, for that matter). I know SIFF is trying to make attendance seem more user-friendly; the Harvard scene would be a great place to start.
That said, and aside from a Friday night projection glitch, plus subsequent disruptions by the nervy Girls Rock! director (constantly checking his phone, entering and exiting the theater, and blocking part of an aisle during the screening), technically all seems well at the Harvard.
Less-than-stellar sound and projection systems at the Egyptian ("the Gyp") made their first archival presentation (Gunga Din) difficult to hear and, occasionally, see. But those are old Gyp problems, as are the zero-privacy powder rooms and the poorly-lighted entry ramps. And while I'm bitching, whoever keeps parking their scooter at the corner of the building outside (i.e., the middle of the passholders' queue) really might want to find another spot.
I still love me some SIFF Cinema, and not just because there are no annoying sidewalk scooters to be found there. As expected, it's a dream festival venue, with roomy queues outside, great traffic-flow inside, and top-notch projection/sound equipment. I haven't witnessed a hitch there yet, or at the NW Film Forum, which is keeping up with its bigger venue counterparts just fine.
Finally, people already seem tired of the live-action "find true film" SIFF trailer, regardless of the venue. I'm sure the hisses I heard when it was shown before Red Road on Friday — the first day of regular screenings — won't be the last. It's really not bad the first two times you see it. But after that: annoying. Why don't they just show the short-n-sweet (and far more interesting) animated ones illustrated by Jason Green?
Including the pre-fest press screenings, I passed the 50-film mark on Memorial Day. So far I've remained sane (I think), though at this point it's like attending the Secret Festival every day: I know where to go and when, but I've completely disassociated most of the titles from their plot synopses.
It's kind of a fun world to live in, actually.
Recommendations and advance reviews for films screening this week and next week are available now. Week 3's highlights and a comprehensive title scorecard will go live next Tuesday.
See you in line!