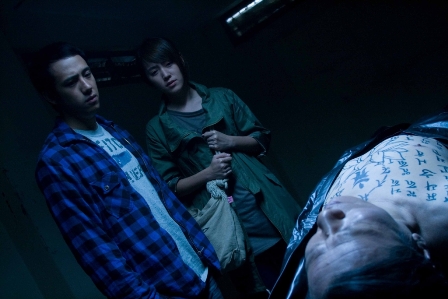 Being an Asian Horror film fan has its rewards and its problems – the main issue being that many of them tend to employ the same type of scare: ghosts with long, stringy face-covering hair that crawl towards their victims while making loud guttural cries.
Yes I Can See Dead People doesn't suffer from this issue, but it's also not very scary. Three of Nam's (Steven Cheung) friends have recently committed suicide, but that's okay, since he can still see them now that they're dead. In fact, Nam spends all his time either seeing dead people around his apartment building or trying to get the attention of the beautiful girl next door. Everything seems copasetic until his brother Tung (Kris Gu) and the object of his desire become possessed, leaving Nam and Tung's girlfriend, Charlie, to solve the mystery and put the spirits to rest.
Director David Lee moves from moments of ridiculous comedy with light-hearted music to gross-out close-ups and "jump" scares backed by a more ominous score. This film has its place and I'm sure it will gather some fans – just don't expect it to be something that truly horrifies you.
{Yes I Can See Dead People screens at SIFF tonight, June 2 at Uptown Cinema, 9:30pm and again at the Admiral Theater on June 5, 9:45pm}