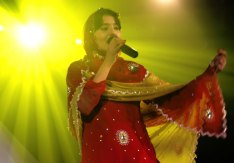 Can you believe this?
It's the final weekend of SIFF '09!
Has SIFF saved the best for last, or is it scraping the bottom of the cinematic barrel? We'll soon find out, and I'll be in queue for:
Afghan Star
(6/11 and 6/13, SIFF Cinema)
This documentary has the potential to be third in a SIFF '09 trilogy (after Pop Star on Ice and Sounds Like Teen Spirit) of irresistibly entertaining reality-style nonfiction films. It chronicles the humble beginnings of "Afghan Star", a version of the "Pop Idol" music competition series which takes that nation by storm: more than 2,000 people audition, three of which are (very brave) women. For many Afghanis, the voting system is their first encounter with democracy; the whole endeavor is frowned upon by the Mujahideen (who consider it sacrilegious) and the Taliban (who attempt to ban it). Director Havana Marking follows four hopeful young contestants as they progress through the competition, and things take a startling turn when one young woman dances on stage, threatening her own safety and the future of the show. Says Film4: "Marking's winning documentary is worth making a song and dance about."
Amreeka (6/13 and 6/14, Pacific Place)
A story about the confusion of first-generation teenagers caught between their parents' ethnic heritage and the Western world in which they live. Upon winning a U.S. green card lottery, Muna capitalizes on the opportunity she's been waiting for — a chance for her and her son Fadi to start fresh in America — but unfortunately their move corresponds with the invasion of Iraq. As they settle in with Muna's sister and husband, their attempts to acclimate to Chicago-suburb life go amiss. The New York Times praises the film's integrity and says it "reaffirms social realism's validity as humanistic art".
The Bear (6/12, Triple Door – 2 screenings)
I've never seen Jean-Jacques Annaud's 1989 nature film The Bear, but these live-accompanied screenings could make for a magical discovery. Staged with trained bears and filmed in the Italian Dolomites, the film follows an orphaned cub named Douce as she tries to make her way in the Canadian Rockies. She eventually encounters Bart, a full-grown male bear who — get this — has a boyfriend bear named Doc. (What is this, the Cuff?) There's a psychedelic mushroom trip somewhere in there too, and to add to the craziness, even though it isn't a silent film (the dialogue is French, FYI), Sub Pop duo No Age will perform original music during the screening. To conclude this preview, I must quote the SIFF program: "As Douce and Bart sift through the maladies and joys of their precarious existence, so too does No Age's music filter raw sensation through art-punk chaos." Um, wow. The 7p screening is all ages, 9:30p is 21+.
Every Little Step (6/13, Egyptian)
Back to those irresistibly entertaining reality-style documentaries for a moment, because this one could very well make for a SIFF '09 quadrumvirate. Echoing the story of the musical it is about, Every Little Step follows the casting of Bob Avian's 2006 revival of "A Chorus Line", one of the most widely produced Broadway shows ever, while interweaving the genesis of the show through recorded workshop interviews with Broadway dancers used as the basis of the play. Directors Sony Stern and Adam Del Deo follow the entire process, from the heartbreak of rejection to the exhilaration of being chosen, alternating between Avian's high-pressure auditions and the archive material. I can't wait. Rolling Stone calls it "a thrilling combination of documentary and musical dazzler", and Entertainment Weekly says it's "as layered and enthralling as its subject." (If you miss the single SIFF screening, you can take a little step to the Harvard Exit for a regular run beginning 6/19.)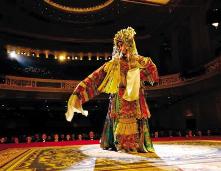 Forever Enthralled (6/13 Cinerama)
Director Chen Kaige (The Promise, The Emperor and the Assassin) returns to the theatrical biopic, a genre that brought him the biggest acclaim of his career with Farewell My Concubine. Enthralled tells the story of Mei Lanfang (1894-1961), a popular Peking opera singer with a long list of famous admirers — Charlie Chaplin and Sergei Eisenstein among them. As Mei's fame spreads, the late 1920s see him performing even on Broadway, but disaster sets in with the Japanese invasion of Manchuria, and Mei's refusal to sing in public under the occupation proves career-threatening. So is Enthralled on par with Concubine? Time Out doesn't think so, but still gives it props as "an assured and opulent period drama".
The Fortress (6/12 Harvard Exit)
This multi-award-winning documentary about a Swiss asylum-registration center is one of The Stranger's "Don't Miss!" SIFF '09 films. More than 10k people per year file requests for asylum in Switzerland, but only a fraction are granted refugee status… and recently the process has become even stricter. Director Fernand Melgar seeks to understand the driving forces behind making a historically peaceful land of asylum into an impregnable fortress surrounded by barbed wire and surveillance cameras. His fly-on-the-wall film takes a close look into the lives of some of the fortress's residents, and peers into the heart of the daily process of sorting human beings.