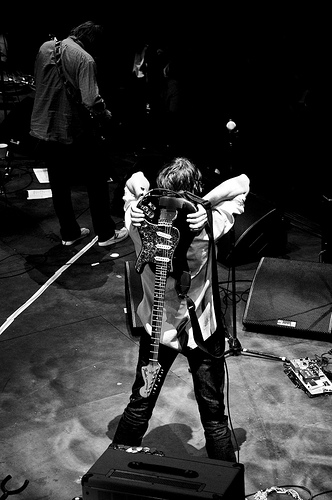 If you're anything like the rest of the free world, you haven't seen much of Pavement since sometime in the late nineties. Recording, releasing, and playing live music for the better part of a decade, Pavement firmly established themselves in the lo-fi pool of the 'alternative' world in 1989 — that's just shy of pre-indie, kids — and fizzled out after their final show almost exactly ten years later. Both fringe- and cult-level fans alike have been clamoring for live performances and speculating on reunion tours ever since, and for those of us lucky enough to have come across / stood in line for / offered our next-born for tickets, the time has finally come!
After a decade-long hiatus, Pavement finally hit the road again this year for a European tour and stateside festival circuit (including Sasquatch, Coachella, and Pitchfork Fest), toting along a best-of comp that was released back in March. They're playing twenty-eight dates in September, and we're lucky enough to have show number two this month taking place at our very own Paramount Theater on Sunday, September 5th. We'll be there with bells on, and we'd love for you to join us! Here's how you can win a pair of tickets to the show:
Sometime between now (yes, right now!) and 5pm on Wednesday (yes, this Wednesday!) send an email to [email protected] with the subject line I'mMeantForPavement — along with a love-letter in the body of the email telling us why you think you should be our lucky winner. We'll choose from the best entries at random on Wednesday night, and will notify the winner on Thursday. (Yes, we're serious!) (Yes, we mean every single one of these these exclamation points!)
Good luck, everyone. We'll see you at the Paramount!
{PS: don't want to risk it? Mindbending as it is, tickets are still available for purchase here.}