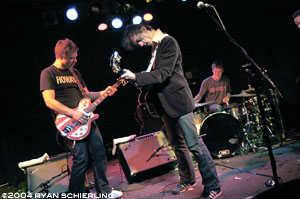 There's a long-gestating rumor floating about that Sondre Lerche ate a banana in front of me when I interviewed him back in 2004.
Well, kids, I'm here to put that to rest. The rumor is true.
But my love affair with Mr. Lerche (or, rather, his music) began much earlier, at a 2003 Croc show in which he charmed a big group of jaded Seattleites with sweetly-accented talk about moistness and sisterhood.
He's back at the Croc tonight in support of his rowdiest release to date, Phantom Punch. (A few choice tracks, including "Say It All," my favorite, can be heard on his MySpace.) The LP is an indie-pop gem that almost matches the quality of his 2004 masterpiece Two Way Monologue, and marks a fine return to form after last year's good-not-great, jazz-heavy Duper Sessions. Buzz about his recent SXSW appearances has been stellar, and I can't wait to see him live again. Banana or no.
Doors at 9p, with two opening acts I've never heard of: Thomas Dybdahl and Willy Mason. See you there!