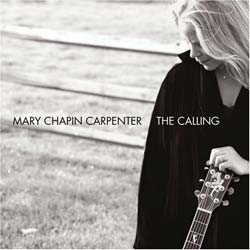 Back in July 2006, igDana's brilliantly thorough We Won't Get Fooled Again! piece (a response to John J. Miller's National Review article on the 50 greatest conservative rock songs ever) included a final note on Mr. Miller's challenge that he'd "love to see someone assemble of list of the 50 best left-wing country songs."
I think I have one to add to that list.
Mary Chapin Carpenter's first Rounder release, The Calling, dropped last month – and I'm ashamed to admit that I didn't know until weeks later. (This past weekend, to be precise.) I've been a fan of MCC's for ages, from as far back as her Lucinda-covering, hit-making mid-'90s heyday. (I've even drunkenly karaoke'd her tunes — just ask igLiz.)
A highlight of the new record is "On With the Song," a catchy lil' rabble-rousin' ditty dedicated to the Dixie Chicks, which includes lyrics like:
This isn't for the ones who would gladly swallow
Everything their leader would have them know
Bowing and kissin' while the truth goes missin'
"Bring it on," he crows, puttin' on his big show
and
This isn't for the man who can't count the bodies
Can't comfort the families, can't say when he's wrong
Claiming I'm the decider, like some sort of messiah
While another day passes and a hundred souls gone
Listen here (just ignore the accompanying fan-crafted video).