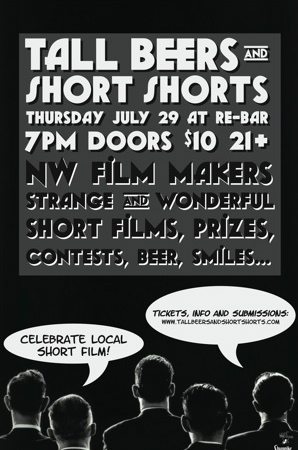 Now here's something I can get behind (HA! seewhatIdidthere?): a short film festival featuring filmmakers from the Pacific NW, with Beer! Contests! and Prizes!
But seriously, guys – I love me some shorts. And if $10 can get me a whole mess of 'em in a fun venue with other like-minded peoples, I'm down. Tall Beers and Short Shorts looks like a whole lot of awesome, so film lovers should definitely go check it out.
Deets from the press release:
Who: Tall Beers Short Shorts, produced by The Last Quest, along with The Levee Breaking, Britta Lundin and Katie Izak.
What: Tall Beers and Short Shorts is a quarterly short-film screening series, highlighting works of Pacific Northwest short filmmakers from Oregon, Idaho, Washington, British Columbia, The Yukon and Alaska.
When: Thursday, July 29. Doors at 7pm, screenings begin at 8pm. $10 Cover.
Where: Re-bar, 1114 Howell Street, Seattle.
Why: Tall Beers Short Shorts' intention is to find and foster new audiences for short films and to seek new frontiers to engage audiences besides art house theaters and the Internet. Screening series takes place in a different location every quarter, sometimes in bars, sometimes in art spaces.