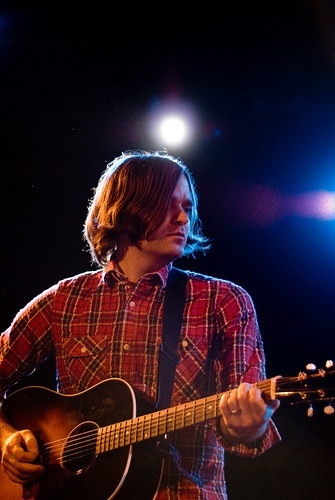 Odds are, if you're here at Three Imaginary Girls poking around, you've heard of Ben Gibbard. And if you're in the greater Seattle area, you've definitely heard about the sold-out show coming up this Wednesday at the Crocodile. (And if you're like us, you might be acting half your age and figuring out just how early you have to get to the venue to secure a spot up front.) But what you may not be as familiar with is the beneficiary of the night, Teen Feed — so, we thought we'd sit right down with their Executive Director and find out all about it for you.
Imaginary Victoria: So, let's have a little background on the who-what-and-where…
Megan Gibbard: Of course.  Teen Feed is a 7-night-a-week meal program for homeless youth ages 13 – 25.  Every single night, from 7-8pm, we serve up to 70 youth a healthy and safe meal – it very well may be the first time that day they've been safe.  Teen Feed is more than just this meal, however. Present at every Teen Feed meal are our Case Managers (we call them Support Coordinators) to build relationships with youth, share a meal, and help with resources and encouragement.  Our Street Talk Outreach Program (STOP) meets youth directly on the streets, in their environment, before they're even ready to ask for help.
Teen Feed works with the community to offer basic needs, build strong relationships, and ally with homeless youth as they met their future off the streets. We achieve our mission through three main initiatives: meals, outreach, and case management. It is difficult to go to school when you're hungry. It is difficult to succeed at work when you aren't sure where your next meal will come from. So, the food always comes first at Teen Feed – then, we get down to the business of working alongside youth as they find that path from the streets.
I recently spoke with a woman who was homeless on the Ave in the early 1990's at the age of 13.  She said that she had a moment, a watershed, when she realized that she needed to get off the streets and start pursuing college.  Teen Feed was right there to help her when she needed it.  Teen Feed is important because all people need to be fed – and every youth on the streets needs safe adults right there with they're ready to ask for help.
This same woman spoke in front of 150 Teen Feed volunteers recently and said:
"I look at my husband, and he's a lot like his parents.  I look at my children, and they're a lot like him and I. I look at myself, and I'm a lot like all of you."
IV: That's incredibly well-stated… it's so inspiring and so tangible, I would assume especially so to her audience as well. You mentioned Teen Feed being right there when she needed you — how did Teen Feed begin, and how did you get involved?
MG: Nurses at the University of Washington started Teen Feed 24 years ago when they noticed that severely malnourished homeless youth were being admitted to the emergency room. In true grassroots fashion, community members responded to feed these hungry teens, a volunteer base that is now over 500 community members strong.
I started with Teen Feed in 2004, fresh from getting my Masters in Social Work at the UW.  I began as a Support Coordinator, working with youth at Feed and at the ROOTS Young Adult Shelter.  I met some of the most exceptional youth doing this work – some of whom I have the privilege to remain in contact with.  Youth who taught me the importance of being completely authentic in and of yourself, and in your motivations to help. 
I began as the Director in 2008, and have enjoyed growing Teen Feed with the best crew of social workers imaginable.  They're heartful people, and I'm lucky to support them. Being there for young people who have no one else – I don't know of anything more important than that.
IV: So, you and I have spent some time together starting to fuse the Imaginary world with the Teen Feed world with plans for upcoming shows, and what have you — do I even have to ask? Why all the indie rock?
MG: Why not all the indie rock!!?? It all began, honestly, when we were accepted by KEXP's Community Partnerships in 2009 and Noise for the Needy this year. The great folks at KEXP and NFTN were exciting to work with, and shared our passion to spread the work about homeless youth and Teen Feed to as many people as possible.  We also found that music folks more times than not remember what is was like to be an awkward teen, maybe a teenager that didn't fit in. Not always, of course, but we've found a nice affinity.
And indie rockers make for such sweet volunteers! I mean, how great is it for a youth to meet a volunteer that works a 9-5 but is a passionate follower of the music scene here — or a volunteer who is a musician full-time?  It is like our own Teen Feed "it gets better" campaign!
IV: It totally is! And I love the dialogue that's begun, the 'let's get Teen Feed in front of the indie rock crowd, and vice-versa' plan — on that note, is there anything you'd like to share with our readers about your brother and the upcoming Croc show? We are interviewing you, after all…
MG: No, I'd love to. The benefit that Ben Gibbard is doing this week came about a little closer to home. Ben is my only brother, and our family really cares for and supports each other. Ben has been a supporter of Teen Feed for a long time, and saw an opportunity with this show to raise money and awareness. We both feel very lucky that our family is strong and that we were cared for – every youth deserves what we received.
IV: Absolutely — and speaking of that, tell us about what areas Teen Feed serves and where youth in need can find you.
MG: Teen Feed meals are located every night at various University District faith community sites – hosted for free by the tremendous community we are a part of.  The youth who come to eat at Teen Feed are from all over King County, and many youth have travelled to Seattle from other parts of the country.
Of course, more information is available at Teenfeed.org — that's also where you can look for more information on the giving side. Please send along an email if you're interested in volunteering, making a donation, or anything like that.
IV: Megan, I can't thank you enough for taking the time to talk with us! We'll see you at the show on Wednesday.
MG: Absolutely. For those attending, I'll be talking with Luke Burbank on stage, and we'll be getting into more about Teen Feed there. And thank you!
{An Evening with Ben Gibbard takes place this Wednesday, November 3rd at the Crocodile. The event is sold out. Photo: Victoria VanBruinisse for Three Imaginary Girls. This photo is property of Death Cab for Cutie and is not to be reproduced without permission.}