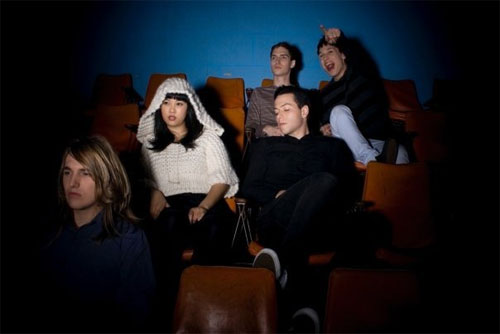 Save the date – The Naked And Famous (NZ's breakthrough band of 2010) has just announced a looooooong list of shows, and they're playing Showbox at the Market April 11th!
It's no secret that I'm stoked – TNAF was astoundingly successful last year and it's been amazing to see their hard work pay off.  To bring you up to speed, in June their single "Young Blood" was the first kiwi single to debut at number one on the NZ charts in sixteen years, and then in September went on to win the coveted APRA Silver Scroll, awarded to the "best-written song on commercial release". Their debut album, Passive Me, Aggressive You was certified gold, and as if that wasn't enough of a success story, the band moved to London at the end of the year, having secured a record deal with Fiction Records, home to such bands as White Lies, Elbow, Crystal Castles, Snow Patrol and The Cure. Whew!
This innovative five-piece has a lot to prove, and you bet they're going to bring a pounding, synth-and-distortion filled show. In the meantime, you can score a free download of their cover of The Mint Chicks' "Crazy? Yes! Dumb? No!" here, and watch the gorgeous video for "Punching in a Dream" on Vimeo.