Dazed & Confused is the midnight at the Egyptian this weekend. Hooray! Even though I graduated in the 80s, this 70s High School flick makes me feel like I'm right back there (there were still some homemade spanking paddles floating around our HS wood shop in '86). The cast is solid:  Cutie-pie Jason London as the good boy, Rory Cochrane as the stereotypical stoner kid, Adam Goldberg as one half of a nerdy duo – even Ben Affleck as the asshole 2nd year Senior works. And honestly, this is Matthew McConaughey's best role ever.  Check out the 'stache: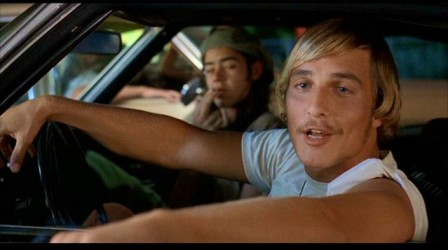 "That's what I love about high school girls, man. I get older and they stay the same age."
The Hurt Locker: This was one of my SIFF favorites, and it's playing at both The Majestic Bay and the Egyptian this weekend. I feel like I can't plug this film enough. It's brilliant and heartbreaking, and you should go see it – even if you think you don't want to.  You can read my SIFF write-up here.
Orphan: This is bound to be a terrible cheese-fest, but I'm a sucker for creepy little girls (please see The Bad Seed from 1956 for a good example). And Esther does indeed look like there's something wrong with her – although any couple that adopts a chick wearing clothes at least 2 centuries old is probably asking for trouble. I have no idea if this will be any good, but my future husband (HELLO Peter Sarsgaard) plays Dad, so I'm there.