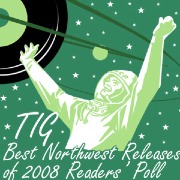 Along with all the other big (some good, some not so good) events that took place in 2008, it was comforting to have a constant stream of really great records released by Pacific Northwest artists and bands throughout the year. We know it was hard to pick your favorites when it came time to vote, but huge thanks to everyone who took the time to vote and helped name a surprising (yet deserving) #1 in the TIG 2008 Readers Poll.
And because we like to partake in the list-making of favorites fun too, we compiled a ranked list of Three Imaginary Girls Staffers' Best of 2008.
With this much great 2008 records, we're all winners:
Best of 200: Individual Staff Lists O'Plenty
Again, thanks to everyone who voted and who was imaginary this year. What a year it was… and what a year 2009 is shaping up to be!
Did your favorites rank high in the polls?