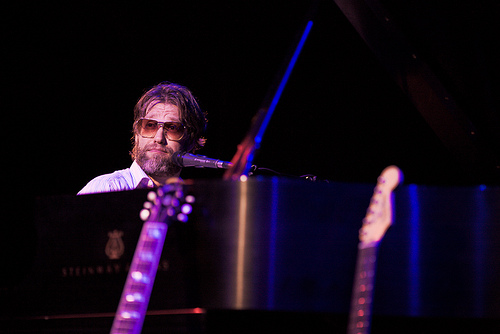 It goes without saying, but we're going to say it anyway:
Choosing to be anywhere other than John Roderick's show on Thursday night would be absolutely ridiculous of you.
John will be taking the stage with fellow Long Winter Eric Corson for an intimate night of songs, storytelling, and commentary on the joie de vivre as only he can describe it. We've been clamoring for a repeat performance ever since the first of this series of shows back in July, moreso still since last month's show got cancelled due to an unfortunate plumbing mishap at the venue.
Seems as though the rest of Seattle's on their tiptoes about it too — and if you don't believe us, take a mosey on over to the Triple Door site and see for yourself. Word on the 'nets is that it's just about sold out. As it should be.
While we're 'saying it anyway', there's another nosh of goodness to hit our collective ears lately — last week, Mt. Fuji records relased a limited edition split single of John Roderick / the Long Winters' latest release "Connections in Nashville," and Spiral Stairs cut "Dreams They Guide Us." The first pressing was only 500 deep, and rumor has it that this imaginary's very own personal copy is en route as we speak type. (Full photoessay to follow upon arrival.) Spiral Stairs put on a killer performance opening up for Pavement at the Paramount earlier this month, and the bliss of a new LW track — well, yeah. It's gonna be good.
It kind of goes without saying.
We'll keep an eye out for the mailman, and you can click on over to get your tickets for Thursday's show. In the meantime, here's the pre-rewrite, mega-rad con-video version of "Not Moving To Portland" to tide you over.
[video: http://www.youtube.com/watch?v=QWX2DNIOdxo]
We'll see you at the show!
{Mega-gorgeous photo courtesy of our friend and magic photogress Laura Musselman.}