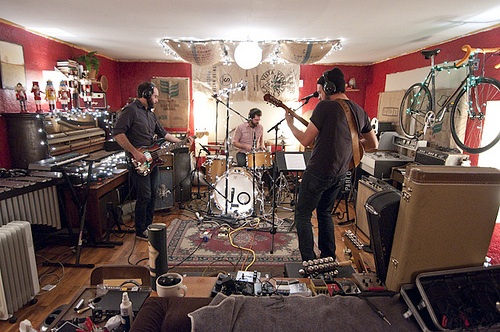 Looks like it's the season for some hard-workin', beard-sportin' local bands to be showing us what they've been squirreling away at recently. In the past few weeks, both Pablo Trucker and Goldfinch (two lovely, sad-bastard-ful bands with no other relation between them whatsoever, as far as we know) have put forth some merry newness into the wide world of the internets for our listening pleasure — and we've got to say, we're oh-so-excited for them both!
Pablo Trucker launched an ambitious project of putting out an actual holiday EP in time for the holidays, which they've managed to accomplish and have also gone the extra step of releasing it track by track through all of the Fridays in December. It's all kicking around on their website over at PabloTrucker.com, along with exclusive videos and photos of the recording sessions that took place a few weeks back. (Hint: with covers of tracks by the Beach Boys and the Staples Singers, this EP is well worth whatever nominal amount of money that these hard working gents are requesting for it. We're just saying.)
In other local music release news, Goldfinch (who you may remember as one of the opening acts for the most recent Long Winters show at the Triple Door) have got a few tracks on the loose as a preview for their upcoming album, which they'll be building up to with a series of A/B single releases and shows. You'll be able to get your hands on the first two-fer of "Vacant Lot" / "Elephant," along with a taste of them live over at Columbia City Theater on December 17th, the day after the Imaginary Holiday Office Party — if you don't have some already, tickets are live and ready for a-purchasin' over at the Brown Paper Tickets website. They'll be sharing the stage that night with the likes of Cobirds Unite and Trespassers William — a post-imaginary, holiday pre-funk of a good time is guaranteed for all!
{Check out more photos from Pablo Trucker's recording session (and much more) over in the imaginary flickr pool!}