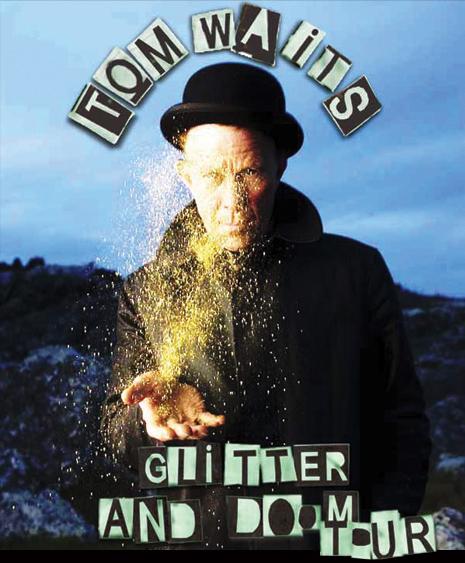 Ok, so the brand, spanking new Tom Waits website went up today and the internets blew up immediately. My iTunes has more Tom Waits tracks than anything else 'cause I sure do love me that man. The website promises information regarding "news, releases, tours, films and more…a resource for lyrics, photos, wit and wisdom, strange but true tales, and more imponderables on topics as far ranging as the origin of consciousness, the sexuality of Christ and the lonely journey of the male seahorse." In other words, anything a serious Waits fan could ever dream of.
The new album Glitter & Doom Live will be released on November 24, 2009 and is a collection of recordings from Waits' 2008 US and European tour, 17 tracks in all. There are some special offers available for all the Waits fans out there:
1) Pre-order a whole host of merchandise, from T-shirts to tour books, CD's and LP's and any combination thereof here (long load time). I'm on the edge of my seat for the album extra "Tom's Tales" compiling all of his famous tall tales and random stage banter. I love his wacked out stories.
2) Download EIGHT new live tracks off the album here (all you gotta do is enter your email address!!!) – I especially loved the darkly burlesque and baroque version of "Singapore" and the creepy and sinister spoken-word "Circus." It's absolutely righteous live!
3) Then there's this little video too:
[video:http://vimeo.com/6985723]