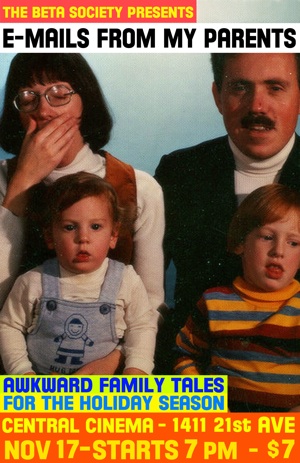 Tonight, Wednesday 11/17, my friends over at The Beta Society are putting on a show that could potentionally rival the ever-popular Salon of Shame called E-mails from My Parents.
Rather than read your own embarassing journals, why not share the most embarassing e-mails, voice mails, or even videos from your parents? I mean, they've embarassed you enough, right? Why not turn the tables?
Head over to Central Cinema from 7-8:30pm tonight and experience dramatic re-enactments of parental tomfoolery, live readings of e-mail, and actual videos from the 'rents. I can't think of a better thing to do on a rainy, cold night – can you? Tix are $7 at the door, and the usual CC food & drink menu will be available.