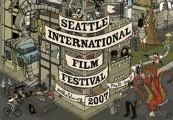 Ready to "find true film"?
More to the point: ready to stand in queue?
Well, it's time to start doing just that, because SIFF kicks off tonight at Seattle Center's McCaw Hall with Son of Rambow, an '80s-set Brit film about two young lads and their attempts to make a prequel to their cinema obsession First Blood. I haven't seen it yet, but this review of its Sundance premiere hints at very good things indeed.
Word on the street is that director Garth Jennings agreed to make 2005's adaptation of The Hitchhiker's Guide to the Galaxy (fun, messy, big-budget beast that it was) as a means to acquire production funding for Son of Rambow (his highly personal, long-gestating pet project). The film gets a proper theatrical release in its homeland this October, and in early 2008 here in the states.
Of course, tonight's festivities (there's a sure-to-be-swagtastic after-party across the way at the Exhibition Hall) are just the beginning of a big, long, draining, wonderful 24 days of film hysteria around these parts. And Son of Rambow seems an appropriately cinephile-friendly launch.
In keeping with the YouTube-iness of days past, I thought you might enjoy a look at some of Garth Jennings' early directorial work: the video for Blur's 1999 single "Coffee & TV".
See you at SIFF!