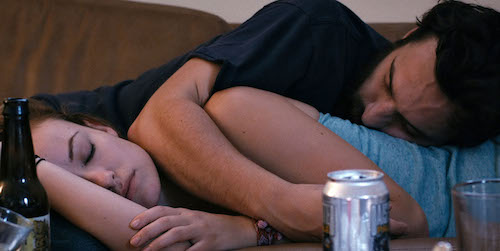 It is time once again for me to dig into the vault of my ever-failing memory and pull up a list of the best movie things I saw in 2013. (Thankgod for Letterboxd…)
Best acting job I've ever seen Leo do: The Wolf of Wall Street
I completely forgot that was Leonardo DiCaprio up there on the screen while I was watching him reenact Jordan Belfort's insane life … which is really unusual. And while I'm saying for the second time how much I loved this film and can't wait to see it again, I'll just throw in that I am not in the camp that thinks this movie glorifies Belfort's behavior. It's not about the victims, because that would be a different movie. It's about excess and greed and hookers and drinking and drugs and money. You know, typical Scorcese stuff. And it's great. It's really, really, really GREAT.
Best film about a guy you probably shouldn't care about, but do anyway: Inside Llewyn Davis
I'm still not sure how I feel about all that folk music, but I do know how I feel about the Coen Brothers. I like those guys an awful lot. Llewyn Davis is kind of a dick, but he's also kind of not. And you end up rooting for him, even if he isn't rooting for himself. Confused? I might be too, but it's a good film anyway … and I sure do like that orange cat.
Best film about an awkward 27-year-old woman in New York: Frances Ha
OMG. Greta Gerwig, every time I see you, I'm convinced that you should just be in every movie, ever. I cringed throughout this entire film, watching you act out Frances' excruciating, soul-searching, and entirely desperate journey, and I felt every single thing she went through because of your amazing skill. Bambach & Gerwig FTW! This is just a really amazing film, all around.
Best pick for SIFF Opening Night: Much Ado About Nothing
Whedon is my master, and I have nothing bad to say about this Shakespeare adaptation, 1) because it's one of my favorite plays, and 2) because it's packed with people from the Whedonverse whom I adore. It's perfect, and it was the perfect pick for the Seattle International Film Festival's Opening Night! And really, any time. Trust me.
Best splatteriffic horror reboot: Evil Dead
I was nervous about this sucking, but it turned out to be the horror film I loved the most this year, because. WHOA. Jane Levy makes an amazing scream queen, and at one point the splatter is so thick it covers every single part of the screen from corner to corner in red. You sure know the way to my sick and twisted horror-loving heart, Fede Alvarez.
Best trope-breaking in a horror film: You're Next
This film is clever, funny, gory, and has one of the best horror heroines I've ever seen: a smart one that can kick some serious ass! She knows exactly what to do to survive against of band of killers … who are both stoppable, and make a lot of mistakes. It's a super fun watch, and I love the meta-filmmaking joke on screen between Ti West and Joe Swanberg SO much. BONUS: Barbara Crampton!
Best profile of Hollywood's young, rich, and bored: The Bling Ring
It's true that I love pretty much everything Sophia Coppola ever does, but this is one of my favorites. Coppola deftly portrays the lives of the gang of numb, coked out teens who made a game out of breaking into celebrities' homes and stealing everything they could get their hands on, and the casting is fucking brilliant. It's equal parts funny and sad, which is kind of my favorite thing.
Best, most honest portrayal of relationship struggles: Drinking Buddies
Aka: the film that made me fall in love with Jake Johnson. Joe Swanberg's talky relationship opus is a tangle of great acting, genuine attraction, and real honesty about emotional cheating, cold feet, and just plain refusing to grow up. Plus, there's beer! Lots and lots of beer. And Ron Livingston's permanently cocked eyebrow.
Best use of special F/X that completely grossed me out: Antiviral
I can't even. I just. This twisted sci-fi tale by Brandon Cronenberg has his dad's influence all over it, and especially so re: the disgusting special F/X. Set during a time when people can purchase viruses a celeb has/had and inject themselves with it to be closer to them (I can absolutely see this happening some day), this film managed to make me feel icky on a level that David C. hasn't since Dead Ringers' dreaded "gynecological tools for mutant women." See also: steaks "grown" from celeb's skin cells (ew ew ew), and the final scene, which makes me feel like hurling just thinking about it.
Best documentary that made me sob 90% of the time I was watching: Blackfish
If you heard wailing coming from the direction of Fremont last night, that was just me and Jonathan watching Blackfish and crying over the baby whales being separated from their moms, raised in captivity, and trained to perform stupid tricks while living in a tiny pool for all of their lives. This is one documentary that definitely lives up to its hype, and seriously, SeaWorld. WTF is wrong with you? YOU KNEW what would happen, you jerks. Gah.
Best film that made me squee every 5 seconds: Monsters University
I was totally hooked as soon as little Mike Wasowski appeared on screen, and thoroughly enjoyed the poking at Frat/Sorority stereotypes, the Revenge of the Nerds-like plot line, and seeing my beloved Randall morph from nerdy, friendly roommate to evil nemesis. So cute! So funny! So good.
Special mention! Hottest actress on screen: Amy Adams in American Hustle. Mygod. Those costumes! That hair! Those legs! Those … okay, I'll just stop now. Let's just say I had a crush on Adams prior to this film, and now I can't stop thinking about her. Like, she's just walking around in my brain on a constant loop, looking sexy as hell. It's really hard, you guys.
Other films that stick out as memorable:
Gravity, Carrie, Cockneys Vs. Zombies, John Dies at the End, 9 Full Moons, Short Term 12, Teddy Bears, La proie (The Prey), Sunlight Jr., Spring Breakers, and Putzel.
Films I wished I'd seen, but will have to catch up on in 2014:
12 Years a Slave, Blue is the Warmest Color, The Hunger Games: Catching Fire, Despicable Me 2, Thor: The Dark World, Stoker, After Earth, Fruitvale Station, The World's End, Blue Jasmine, The Spectacular Now, Rush, We Are What We Are, Frozen, Old Boy, and Don Jon.