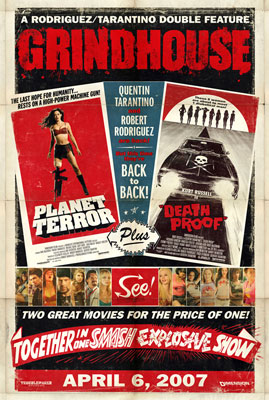 The brilliant horror-schlock homage Grindhouse only made $12 million over its opening weekend — a shame in itself, because it's the most fun I've had at the movies so far this year. I'd even go so far as to call Grindhouse the Far From Heaven of zero-budget '70s trashploitation.
Now, according to something called Deadline Hollywood Daily (via Defamer), Harvey Weinstein (whose new company distributed the film) is considering a truly bullshit tinker-job like he was so famous for at Miramax:
[Weinstein is] "incredibly disappointed" with the half-than-expected $12 mil box office for Grindhouse released on Easter Weekend (a controversial move itself). So much so, that he's considering abandoning the double feature as a single feature concept and re-releasing the Quentin Tarantino/Robert Rodriguez movie around the U.S. "in a couple of weeks" as two separate feature-length movies with additional footage put in.
Hello, the niche audiences of Rodriguez, Tarantino, and schlock fans who wanted to see Grindhouse have, uh, already seen it. Does he really think they'll pony up again for two separate theatrical features? And, even if they do, will the additional production and marketing costs involved really pay off?
Not that I'm not all for adding back the footage slashed to get an MPAA "R" rating — especially if it includes the "missing reel" of Freddy Rodriguez's nekkid scene with a peg-legged Rose McGowan — but, come on, Harvey, that's what DVDs are for.
My advice to Weinstein? Cut the stateside losses, hope for some good foreign box office, and move the hell on.