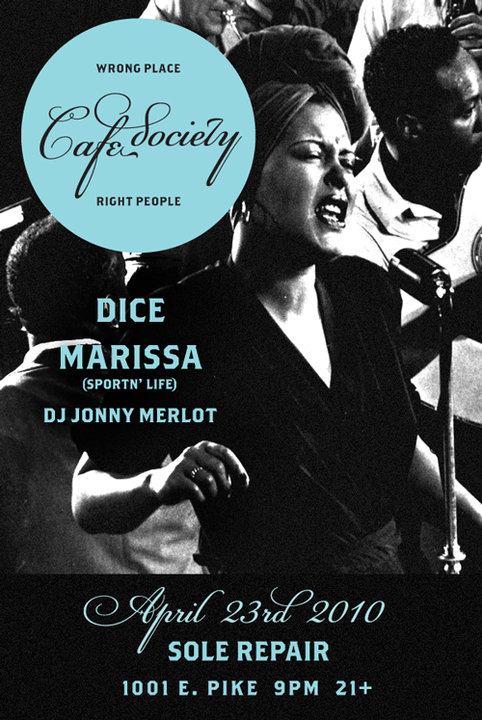 Tonight is kind of special, and not in a weak beer tasting way. There's tons of super fun socializing stuff to do!
First there's the Three Imaginary Girls-sponsored New Pornographers' album Together listening party early at 6 PM at the best coffee shop in Greenwood, Neptune (8415 Greenwood Avenue North). This would be a sweet chance to hang out with TIG people, the Greenwood gang, and New Pornographers' fans, who are to class and sass what a just out of juvie 40 ouncer-lugging Juggalo is to an Insane Clown Posse listening par-tay. The new album has honey-crackling Neko Case co-vocals, tons of sauteed hooks, and deep chocolate cello. Come get your fresh ground bean buzz on and hear it on Neptune's gnarly s-system with fellow underground rock connoisseurs.
What are you doing later then? Here's one suggestion: Ladies lounging at Cafe Society at Sole Repair at 9 PM.
After that, I'm going to take off for with my ride to Capitol Hill, to 1001 E. Pike to see Sole Repair's new swanky lounge lizard-palooza, Cafe Society, hosted by two of the smartest, sweetest, most awesome Seattle leading ladies Jennifer Petersen (of Sportin' Life Records) and Sarah Walczyk (Powerful Voices).
Cafe Society used to be a Depression-era New York concept, featuring African American artists providing velvety cabaret vibes for the economically challenged night-life who could use some elegant respite from turbulent times. Dressing to the nines, sipping a cocktail, you can relive that tonight with artists Marissa (on Sportin' Life Records, label of the new decade) and DICE, also featuring sets by DJ Jonny Merlot.
Jen and "White Pepper" Sarah plans to be (according to one of TIG's favorite sibling, Sound On The Sound) "the reborn Cafe Society is a monthly salon to celebrate female artists of every genre and to encourage conversation and appreciation between women." The sets at this special night are short, encouraging the patrons to chat up and schmooze with each other. The two ladies have a similar vision of defeating the decentralized drama of being a young woman in a music scene that often doesn't look out for their best interests.