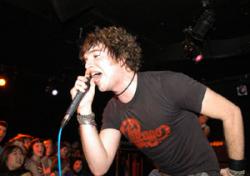 So, today marked the release of Hot Hot Heat's new album Happiness Ltd., their second on a major label since leaving Sub Pop. Now, I find it amusing that, well, in glancing at the various media sites and chatting with folks and such, no one seems to care. The new disc has garnered both mostly mediocre reviews, and more telling, not that many of them.
My question to the TIG audience is … when do we stop caring? HHH used to be the "next big thing" from the Pacific Northwest, yet now they seem to be already "has beens" — all of this in the course of, really, three album: Make Up the Breakdown, Elevator, and Happiness Ltd..
Have HHH gotten a bad deal? Are modern rock listeners fickle and overtrendy? Or maybe, HHH just wasn't that good to begin with? The questions abound.