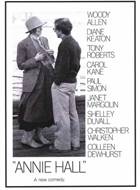 SIFF Cinema's United Artists Series continues this week, and the kind folks at SIFF are offering one lucky TIG reader a pair of tickets to its screening of the Woody Allen classic (and one of ChrisB's favorites) Annie Hall on Friday, May 9!
Friday, May 9
Annie Hall
7:00pm
Woody Allen's foray into romantic comedy won an Oscar for Best Picture and signaled the beginning of Allen's prodigious dramatic output—to the dismay of some fans who wanted "the earlier, funnier movies." But Allen's film about modern relationships is funny—and intelligent and moving. The brilliant Diane Keaton picked up the Oscar for here portrayal of "la-di-dah"-spouting Annie. (1977, 93 min.) New 35mm print!
Simply email [email protected] with "TIG SIFF tix Annie Hall" in the subject line, and your full name somewhere in the body of the mail, for your chance to win. (Email addresses will not be shared or sold.)
Watch for chances to win tix to other films later in the week!