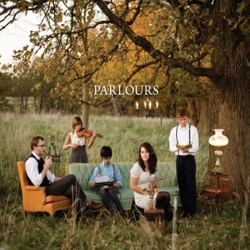 …that's a lot of "P"s*, I know. I promise I didn't plan that!
We receive a lot of fantastic musical submissions at TIG via email and PO Box, and once we divvy them up and take them home, we give them a listen and frequently discover some really great stuff. Sadly, we rarely have time to fully review them all, but I thought I'd throw a few of my top picks together for sharing.
Parlours: This Des Moines, IA band puts out poppy, pretty, hand-clapping tunes with catchy beats and synth-soaked melodies enhanced by a throaty female vocalist. Favorites form their self-titled EP: "So Still" and "What's Your Name"
Post Adolescence: Ok, honestly, I picked this CD up because it has a song called "MySpace or Yours". haha. Get it? But! I was pleasantly surprised. This post-punk 80s-influenced Seattle garage band is perfect background party music. A few fun, bouncy picks from their debut, My Nothing: "It Gets Better" and "Act of Whore".
Phineas and the Lonely Leaves: An indie-folk band from NY, their sophomore album The Kids We Used to Be is packed with lovely keys, guitars, and warm vocals made for lazy sun-soaked days and spur-of-the-moment road trips. Some outstanding picks: "Dead Right" and "Next Summer", along with the title track (both parts).

*Penny Pingleton is Permanently Punished!