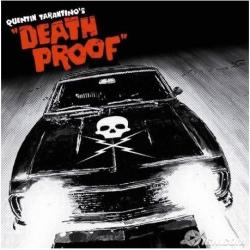 We all know everyone is obsessed with making those Top 5 High Fidelity lists – you know, either because you've actually always made them, or because it's cool* to do it now.
And while there's generally no way I could ever pick only 5 movies to recommend (my most-hated and most frequently-asked question: what's your FAVORITE FILM? Um, picking just one – that is completely, utterly, impossible, people), I can definitely make a list of soundtracks that I play over and over again – and think you should own too because they are so awesome.
American Psycho Soundtrack:
Yes, it's undeniably 80s – but every time I hear the industrialized twist on my High School dance DJ's favorite tune "You Spin Me Round (Like a Record), Daniel Ash belting out some "Trouble" or MARRS pumping up the volume, I jump up and down with unabashed glee. Also, "Watchin Me Fall" by The Cure, which was new from Bloodflowers when this soundtrack was released in 2000, pretty much kicks ass. Bonus: Patrick Bateman's monologues are included.
Track listing:
You Spin Me Round (Like a Record) – Dope
Something in the Air (American Psycho Remix) – David Bowie
Watching Me Fall (Underdog Remix) – The Cure
True Faith – New Order
Trouble – Daniel Ash
Paid in Full (Coldcut remix) – Eric B. & Rakim
Who Feelin' It (Philio's Psycho Remix) – Tom Tom Club
What's On Your Mind (Pure Energy Mix) – Information Society
Pump Up the Volume – MARRS
Death Proof Soundtrack:
Gore-master Tarantino knows how to put celluloid together, but he's also kick ass at stringing some tunes along that tell a story. I adore most all of his soundtracks, but this one is my most beloved. Integrating retro classics with pieces of the score and clever bits of dialog (whatever to your however!), QT has woven a masterpiece of tunes to groove to. It's a complete package of awesomeness, but some standouts I can't stop listening to are: "Hold Tight", "Chick Habit", and the super sexy "Down in Mexico".
Track listing:
The Last Race – Jack Nitzsche
Baby It's You – Smith
Paranoia Prima – Ennio Morricone
Jeepster – T-Rex
Staggolee – Pacific Gas & Electric
The Love You Save (May Be Your Own) – Joe Tex
Good Love, Bad Love – Eddie Floyd
Down in Mexico – The Coasters
Hold Tight! – Dave Dee, Dozy, Beaky, Mitch & Tich
Sally and Jack – Pino Donaggio
It's So Easy – Willy DeVille
Riot in Thunder Alley – Eddie Beram
Chick Habit – April March
Marie Antoinette Soundtrack:
This one's kind of monster, weighing in at 2 discs and 26 tracks, but I love the way it masterfully pulls together classical pieces, new songs, and some of my favorite teenage tunes. Gang of Four, Siouxsie, The Strokes, Aphex Twin, New Order, and The Radio Dept. get shuffled in-between piano pieces by Vivaldi and Scarlatti, and the original score. Bravo, Sophia, Bravo.
Track listing:
Disc 1
Hong Kong Garden – Siouxsie and the Banshees
Aphrodisiac – Bow Wow Wow
What Ever Happened – The Strokes
Pulling Our Weight – The Radio Dept.
Ceremony – New Order
Natural's Not In It – Gang of Four
I Want Candy – Bow Wow Wow
Kings of the Wild Frontier – Adam & the Ants
Concerto in G – Antonio Vivaldi
The Melody of a Fallen Tree – Windsor for the Derby
I Don't Like it Like This – The Radio Dept.
Plainsong – The Cure
Disc 2
Intro Versailles – Reitzell / Beggs
Jynweythek Ylow – Aphex Twin
Opus 17 – Dustin O'Halloran
Il secondo Giorno – Air
Keen on Boys – The Radio Dept.
Opus 23 – Dustin O'Halloran
Les Barricades Mysterious – Francois Couperin
Fools Rush In (Kevin Shields Mix) – Bow Wow Wow
Avril 14th – Aphex Twin
K. 213 – Domencio Scarlatti
Tommib Help Buss – Squarepusher
Tristes Apprets, Pales Flambeaux – Jean Philippe Rameau
Opus 36 – Dustin O'Halloran
All Cats Are Grey – The Cure
200 Cigarettes Soundtrack:
Totally a case where the soundtrack is WAY better than the film. And really, how could it not be? This one mixes original 80s tunes with some newer tunes, including a cover of the English Beat's "Save it for Later" by our own Harvey Danger. It's a dance-tastic blend of new wave pop hits, and I love that's it's all packaged together in a party-perfect mix.
Track listing:
Cruel to Be Kind – Nick Lowe
In the Flesh – Blondie
Just What I Needed – The Cars
Save It For Later – Harvey Danger
Our Lips Are Sealed – The Go-Go's
I Want Candy – Bow Wow Wow
I Don't Care – Ramones
Boogie Wonderland – Girls Against Boys
Ladies Night – Kool and The Gang
It's Different for Girls – Joe Jackson
Nowhere Girl – B. Movie
MoreThan This – Roxy Music
Romeo and Juliet – Dire Straights
Rapture/Maria/No Exit Medley – Blondie
(500) Days of Summer Soundtrack:
In addition to the movie being totally adorable, the soundtrack is pretty much perfection. Another mix of songs from the 80s and now (anyone else see a pattern here??), this collection managed to please me, even with the inclusion of She & Him's cover of a beloved Smiths song. Standouts: Carl Bruni's fantastic "Quelqu'un M'a Dit", "Us" by Ms. Regina Spektor, and "Bad Kids" by The Black Lips. Of course I also love that they included the opening voiceover as the first track. And – I still think Hall & Oates recent popularity with the youngsters is due almost entirely to Joseph Gordon-Levitt boppin' to "You Make My Dreams" in the film.
Track listing:
A Story of Boy Meets Girl
Us – Regina Spektor
There is a Light That Never Goes Out – The Smiths
Bad Kids – The Black Lips
Please, Please, Please, Let Me Get What I Want – The Smiths
There Goes The Fear – Doves
You Make My Dreams – Hall & Oates
Sweet Disposition – Temper Trap
Quelqu'un M'a Dit – Carla Bruni
Mushaboom – Feist
Hero – Regina Spektor
Bookends – Simon & Garfunkel
Vagabond – Wolfmother
She's Got You High – Mumm-Ra
Here Comes Your Man – Meaghan Smith
Please, Please, Please, Let Me Get What I Want – She & Him
*and by "cool", I mean, totally totally nerdy.