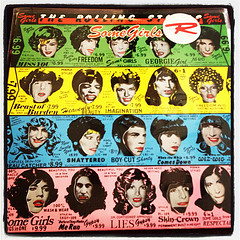 "Do you have Some Girls?" I asked the guy at Bop Street, fingers crossed.
"Yup! Got it right up here. Oh look, we even have the uncensored cover."
And this is how I bought my first vinyl since the 80s.
My boyfriend and I had recently decided that we definitely needed a turntable—me, after many years of hemming and hawing about getting one, him, swayed by the release of Tomahawk's Eponymous to Anonymous—and what better day to set out to do it than Record Store Day 2012?
But what vinyl would I buy? What would be my first purchase? I thumbed through the bins at Sonic Boom, stopping on The Cure Entreat, a collection of Morrissey records, and gazing fondly at the GIGANTIC Joy Division and Smiths sets I couldn't possibly afford—when I found it: The Rolling Stones Some Girls. But wait—this was the reissue, and the reissue didn't have the pull out cover with the band's faces and the wigs that I remember so fondly from my youth.
As soon as my hands touched the copy from Bop Street, I was back in my parents' house leafing through my dad's record collection and carefully sliding the cover back and forth, counting how many different face and wig combos I could make, gazing at Marilyn and Lucy and admiring the rainbow colors.
My uncle laughed at me one time for my frantic unzipping of the Sticky Fingers cover—getting a sharp look from my dad, but not before he joined in, laughing too. I was too young to understand what they were laughing at. Years later I'd find myself looking for an album cover with a working zipper only to find out that they were a) incredibly expensive if intact, and b) usually came with a scratched-to-hell copy of the record.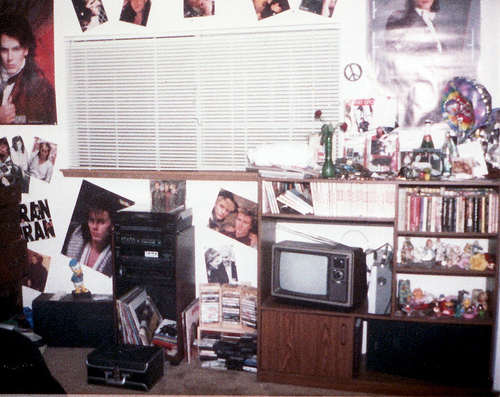 My room, circa 1987. If you ignore the insane amount of John Taylor images and look under the cheap turntable, you'll see my records, and tapes next to them in mini-crates. And if, by chance, your gaze wanders over to the complete collection of Sweet Valley Books above the TV, YOU'VE GONE TOO FAR.
If I close my eyes I can still remember every detail of my dad's 70s stereo. The giant round buttons, the homemade speakers that my mom made covers for decorated in puke green dahlias with brown stems, and how I was taught to very carefully slide the record out, put it on the turntable, and lower the needle ever-so-slowly in order to listen to the music.
My dad's record collection wasn't huge but every album had a story, and I loved taking one out of the stack and asking him about it. Heart, Linda Rondstadt, The Kinks (for years I believed my middle name was chosen from their song, "Victoria," only to find out later they had honeymooned in Victoria, B.C. hmmpf), The Beatles, Fleetwood Mac, etc. My mom had a few things in the mix too, mostly The Supremes and some 50s & 60s "greatest radio hits" compilations, which I appropriated into my own collection later.
Mom's most awesome contribution to my early record collection was a red plastic singles carrier that had one of those lenticular cards on the front of a couple in a leather biker jacket and full poodle skirt dancing. She'd had it since she was a teenager, so it was stuffed with 45 singles from the late 50s and early 60s. I loved it so much, but it eventually fell apart and I had to toss it.
As for my own records, I had a child's plastic record player. It wasn't branded, just a cheap one from K-Mart—but it worked to play my complete collection of Disney albums; which for some reason included much of the movie dialogue in addition to the songs … and that's how I still remember most of the lines from The Rescuers and Pete's Dragon. My uncle gifted me my first REAL records one Christmas: Cyndi Lauper She's So Unusual, and The Eurhythmics Touch. Duran Duran Rio soon followed (man how I coveted that Nagel cover), along with INXS Listen Like Thieves.
By the time I hit my teen years, I was obsessed with buying 12" maxi-singles at Tower Records and Orpheum, where I proceeded to buy every New Order, Depeche Mode, and Siouxsie remix I could get my hands on. Special orders were my crack. I didn't even bother waiting for the phone call to tell me my order had arrived; I'd just show up every Saturday to see what was waiting for me.
But then tapes became cheaper, and you could play them in your car, so I forgot about buying records for the most part. I'd still make a special trip to Broadway for an import, but my tape crates were far more robust than my puny 50-album collection. Then by the late 80s, CDs had pretty much taken over all record stores, and my music turned digital. It's still mind-blowing to think that now I don't even need those discs—I can get pretty much anything I want online and have it beamed directly to all my apple devices in under 5 minutes. I mean, WHAT.
Sometime in the 90s, my crappy record player broke and I didn't bother to buy a new one. I still had a stack of albums I couldn't let go—mostly the remixes I had lovingly stockpiled—but I didn't know what to do with them. Those records are now lost. Left at an exes house over 10 years ago, I cringe when I think of not having the courage to ask for them back a second time, after he said, "You have to come get them yourself."
My dad's collection is also long gone, having melted in a house fire in 1989.
But this is part of what makes my new phase of record collecting more exciting. Attempting to rebuild my dad's collection (as I remember it) and my maxi-single madness is part nostalgia, part grief, part treasure hunt, and ALL AWESOME. I've already found the 12" New Order "Blue Monday"/"The Beach" and "Temptation"/"Hurt" singles in beautiful condition (there was much rejoicing in Bop Street that day, my friends!!!) along with a few new releases—I love that they all come with download codes, btw—and copies of the Pretty in Pink (pink vinyl!) and The Breakfast Club soundtrack (white vinyl!) reissues for RSD.
I'm happy that I have so many ways to buy and hear music—but I'm happier, still, that records have become "cool" again. Now I get to re-collect everything, and I'm in a much better place in my life than I was when I did it before. Happier memories will be attached to each purchase. Well, for me, anyway. I can't imagine Jonathan is going to enjoy the full Factory Records catalog I plan to put together, but we'll see …
The best part of all this is that I told my dad of my plan to rebuild his collection, and offered to play Some Girls for him the next time he comes to visit.
"That's cool, Mini!* I'd really like that."
Yeah, that pretty much makes it all worth it, right there.
*Yes, that's my dad's nickname for me. No, it is not after Minnie Mouse. Buy me a drink sometime and I'll tell you what it means.