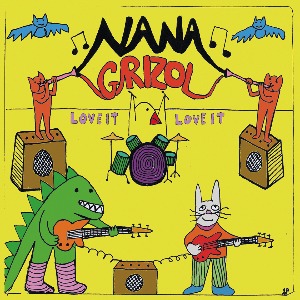 It's no secret that any Bright Eyes recording makes me weak in the knees. I also shouted my love for the New Bad Things from a mountain top once. And then there was that time that I punched out that guy who bad mouthed Pavement. I wear my loves on my sleeve and care for them with a bottomless well of devotion (even when they do things like make out with Winona Ryder or go through slight over-hyped / melodramatic patches). I'm sure at times such predictability and steadfastness is annoying to those around around me. Dear friends, watch out, because I've found a band that brings all of these favorites together in an unfeigned Athens, GA wrapper.
I'm only on my second listen of the Nana Grizol album and I'm already on the brink of tears it's so good. Although, warning to the masses, I can understand that it might not be for everyone. The songs spew alt-folky quivering preachiness that Conor Oberst or Will Sheff (Okkervil River) could flawlessly karaoke. Its jangly, trumpet-infested perfect-haphazard sing-alongs bring to mind Neutral Milk Hotel and the New Bad Things with Pavement quirk sprinkled on top. I love it so much I wish I could listen to two copies at the same time. It's nearly creepy that this, their debut album, is titled Love it Love it (released on Orange Twin).
Go listen to four of their songs posted on the Nana Grizol MySpace. While there, you can see if they are coming to your town soon (sadness: they aren't coming to Seattle this time around)
Want to obsess about them with me? Here's the official bio:
Less of a band than an exuberant orbit of bright weird planets circling the joyful kinesis of main-songster Theo Hilton, Nana Grizol's debut album Love It Love It sees release on Orange Twin on May 13, 2008. Recorded in their hometown of Athens Georgia directly after a month-long tour of DIY spaces across the States, this record finds the band brimming with energy and rightly well-honed where live performance is concerned; Love It Love It sacrifices none of the band's beloved, sweat-stained essence.

The crew augments Theo's book-open vocals and beautiful fingerpicking with a suitably eclectic array of instrumentation. Laura Carter and Robbie Cucchiaro, both formerly of Athens' legendary and notoriously horn-buoyed Neutral Milk Hotel, head up a brass-and-winds section comprised of Laura's celebratory trumpet, Robbie's Baritone Euphonium, a couple clarinets, harmonica, recorder and whatever else you can pack into a touring-trunk and bring along for a blast. Rhythmic backbone comes courtesy of Southern punkrock siren Madeline Adams' bass, Matte Cathcart's drumming and some right-on Fender Rhodes piano provided by Hot New Mexicans' mainman Patrick Jennings.

The catchy, heartfelt crunch of the album's opener, "Circles Round The Moon," segues seamlessly into the brassy, beautiful circus-lullaby, "Tambourine-n-Thyme." Things get sad and stripped down with "Tiny Rainbows" — a gentle plaint nudged toward the light by the brilliant horns. And "Broken Cityscapes" gets positively naked: Theo's adamant vocal sounds above his acoustic guitar and a couple rattles.

Theo's lyrical voice is ruralist, lovelorn and punkrock in the most primal way: he looks to explicate a world gone way wrong on the most basic, inhumane levels. Experiences gained on the touring road and at his home at the Orange Twin Conservation Community have led him to question the empty life of the modern American, and the disquieting ways the inherent Dystopia have made itself manifest on our own interior landscapes.

Orange Twin Records is a record label and web site run by members of Elf Power and Nana Grizol which is raising funds for land preservation and sustainable development. We are currently working on an 150 acre eco-village in Athens, Ga. We support artists by providing an affordable place for them to display and sell artwork and music at www.orangetwin.com.