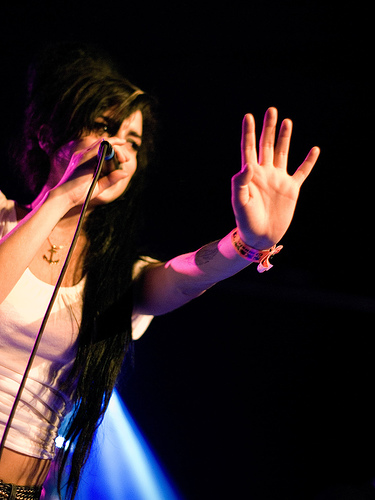 Imaginary Dana's BFF Amy Winehouse has just announced that she's engaged to be married to the boyfriend who inspired many songs on her critically acclaimed Back to Black. The two 23-year old lovebirds have solidified their relationship with a tattoo of the soon-to-be groom's name on Amy's left breast.
The full story from PeopleMagazine.com:
Singer Amy Winehouse is engaged to boyfriend Blake Fielder-Civil, a source close to the singer confirms to PEOPLE.
Fielder-Civil, a 23-year old gofer for music videos, proposed earlier this week with a diamond ring from Tiffany's.

"I'm a very lucky girl to have found someone I love so much," Winehouse, 23, told the U.K.'s The Sun newspaper, flashing her ring. "I hope to be with him for the rest of my life. We haven't set a date yet or anything like that."

The pair first started dating two and a half years ago, and Winehouse – who told PEOPLE in March that she has "12 or 13 tattoos … I haven't counted" – promptly tattooed his name above her left breast. The pair later split because Fielder-Civil was also in another relationship – an experience that inspired Winehouse to write the track "Tears Dry On Their Own" on her album Back to Black.

Earlier this year, Winehouse split with her boyfriend of nearly a year, chef Alex Claire. A month ago, she and Fielder-Civil got back together.

Winehouse told The Sun: "He proposed at home a few days ago and I took a day to finally agree. Obviously we are both young and it is frightening. But it is the right thing to do. That is why I agreed."