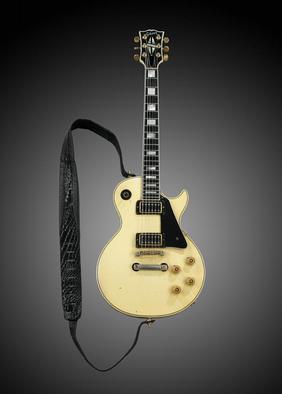 In case you weren't able to get your hands on David Gedge's guitar a few weeks back, we've found another one for ya: own the guitar The Edge used to record "New Years Day." No big whoop. 
Bidding opens at a measly $30,000. A small price to pay for a piece of musical history. The Edge himself writes…
"I bought this guitar down on 49th street in New York city in 1982. It was the third guitar I ever bought, after my Explorer and my black Strat. I wanted that Steve Jones "Never mind the bollox" sound, so I got the same guitar right down to the colour. I never could get that sound, but I found a bunch of songs in this instrument, and have used it extensively ever since, on tour and in the studio. There are many of photographs out there of me playing this Les Paul. One I happened to notice is in our recent book "U2 by U2" on page 224. I'm in the control room of the original windmill lane studio with Brian Eno, probably adding the final touch to a song from the "Achtung Baby" record, which we mixed there. I will miss this one, not for sentimental reasons but because it's my New Years Day guitar."
What are you waiting for?  Place your bid!