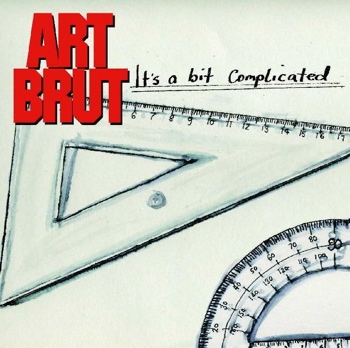 Great news from team Art Brut: the band has made five new songs from their forthcoming record It's A Bit Complicated available for free sneak-peek downloading and listening, plus an unmastered version of the first single from the release, "Nag Nag Nag." Five new Art Brut songs!!! It's a hallelujah and praise-be Monday surprise!
Here's the track-listing:
Pump Up The Volume
Direct Hit
Post Soothing Out
Late Sunday
Nag Nag Nag Nag
The full-length is due out on Downtown Records on June 26th.
Giddy with Eddie Argos excitement? Well, there's more… the band will be hosting a mini-tour to get everyone fired up for their sophomore release. No Northwest dates, sadly, but here's where they're going to be…
Apr 17 – New York, NY @ Bowery Ballroom
Apr 18 – Brooklyn, NY @ Studio B
Apr 19 – Toronto, ONT @ The Mod Club
Apr 20 – Chicago, IL @ Subterranean
Apr 21 – Los Angeles, CA @ Troubadour
And for you fans in New York and Los Angeles — extra exciting news! The band will be present for a couple of open-to-the-public, after-hours listening parties just following their New York and LA shows.
April 17th at the Bowery in NYC (12-4a)
April 21st at the Beauty Bar in LA (12-4a)
"I'm sweating. I'm sweating, I'm beginning to palpitate! I can't help myself…"