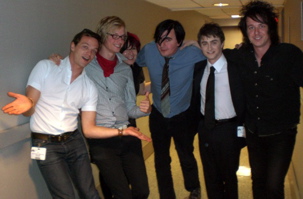 I had to share this picture that just arrived into the imaginary inbox. Two worlds collide!
It's a photo marking the Art Brut / Daniel Radcliffe (Harry Potter) backstage meeting at The Conan O'Brien Show.
Daniel was heard saying "Very very cool…the most entertaining [band]…they're great" (or at least that's what their publicist is telling us).
A video from the night (he does have a Harry Potter glow doesn't he?):
Click Here to View "Direct Hit" Live On Conan:
Want to shake Art Brut's hand? You might see them over by the kettle corn stand at Bumbershoot… or in your town soon:
Sep 2 Sun-Bumbershoot- Backyard Stage Seattle WA
Sep 3 Mon-Richards On Richards Vancouver BC
Sep 5 Wed- The Warehouse Calgary AB
Sep 6 Thu- Starlite Room Edmonton AB
Sep 7 Fri- Pyramid Cabaret Winnipeg MB
Sep 8 Sat- The Hideout Block Party Chicago IL
Sep 11 Tue- Key Club Los Angeles CA
Sep 13 Thu- Beauty Bar Las Vegas NV
Sep 14 Fri- The Mohawk Austin TX
Sep 15 Sat- Monolith Festival at Red Rocks Morrison CO
And one last thing I've been wondering about. Do you think that JK sent Daniel the last HP book before it was released? Is that a fringe benefit of playing HP on screen? And if so, did Hermione get one too?