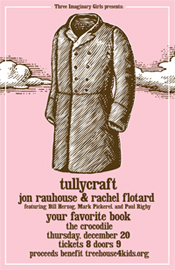 Join us at El Corazon TONIGHT for an evening
chock full of holiday hilarity, performances by
our favorite bands, Indie-Rock Santa John
Roderick with all proceeds from the evening
going to TreehouseforKids.org (a local charity benefiting foster children).
And just announced, our friend Rick at Seattle Show Posters will be on hand with some limited edition, screenprinted show posters for the evening's event for sale and all poster sales will be donated to Treehouse for Kids as well! 
(sidenote: if you still haven't picked up that special something something for you cool friends, Rick has poster packs ON SALE NOW!)
There's many reasons we'd LOVE to have you join us but here's a few reasons the evening will be so special:
Indie-Rock Santa John Roderick (The Long Winters) will grace the holiday-themed throne as dear St. Nick/John and the lovely and super talented Laura Musselman will be on hand to take free photos of you and Santa for your mantel.
Headlining indie-popsters Tullycraft have a set of sweetcore pop anthems that will have you dancing, and dare we say, jumping to their smart, hookladen songs about vampires and beauty queens.
Rachel Flotard (Visqueen), Jon Rauhouse (Neko Case), Paul Rigby (Neko Case), Bill Herzog (Jesse Sykes' band, Sunn), and Mark Pickerel (& His Praying Hands, Screaming Trees) will astound us with this rare performance featuring holiday tunes, their regulars, and a lot of jokes in between.
Your Favorite Book will start off the night with their infectious early Mountain Goats lo-fi acoustic guitar strums and Weakerthans lyrical twists. YFB are quite elusive and usually opt to shuffle their songs with crafty handmade cd releases and small, underground shows.
Doors are at 8p and tickets are $8. Join us in celebrating this momentous season (and my birthday!)!!!