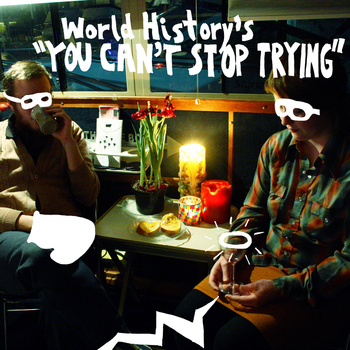 I haven't quite been able to pinpoint exactly what it is about You Can't Stop Trying, the latest release from World History,  that charms my socks off. It could be the Neutral Milk Hotel croning up and over vocals on songs like "It's Okay to be Alive" and "Ricardo, You Run Free" or the alt-Americana mountaineer singalong march of "Take Our Your Swords." My favorite point in the album is near the end when they veer into upbeat lo-fi sweetness of boy/girl harmonies on "Shine."
The album is flush with restrained instrumentation with a strong focus on autoharp, guitar, drum with flute and melodica thrown in for a touch of a suavity.  Add in a couple guest star friends like Adam Oelsner (LAKE, Kickball) and Zach Burba (iji, Sundance Kids, Megabog) and you've got a notable debut album.
For a limited time, you can go download the new album now (for free, or $5, or whathaveyou) on the World History website or hear the songs at their next show on August 27 at Carousel Festival.
And if you've got friends around this great big country that you think should see them for themselves, you can help with a stop or two on World History's massive US tour.  They are going to stop at every pin point on the map during their course of their seven month tour from August 2010-March 2011 – so completist that it includes two stops in Delaware!