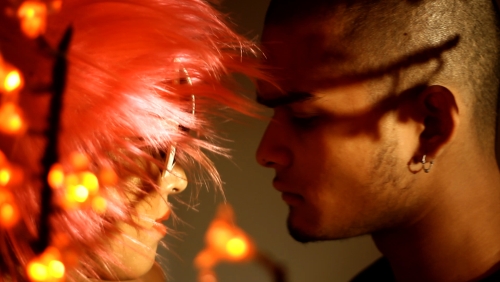 You may have noticed we've hushed up about SIFF these last couple of days. That's because SIFF 2011 is a thing of the past. Did you miss out, despite our daily urgings to see this Alaskan crime thriller or that Spanish period drama? Are you kicking yourself for foregoing Seattle's month-long megalomaniac cinemathon yet again?
Well, you have a few chances for redemption. That's right, just when you thought it was safe to go back to Seattle Center, an action-packed three-day Best of SIFF 2011 program invades SIFF Cinema at McCaw Hall this weekend (6/17 – 6/19), and will feature a mix of (mostly very deservingly-honored) Jury Award winners, Golden Space Needle Audience Award winners and fest favorites. So, you can partake of films you missed the first time 'round (shame on you) or revisit your SIFF favorites one more time (on the big screen instead of Netflix).
Here's the lineup, along with the intrepid TIG SIFF team's takes on the selections we reviewed:
FRIDAY, JUNE 17
5:30 PM: Gandu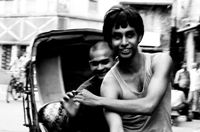 Winner: Grand Jury Prize – SIFF 2011 New Directors Competition
This confrontational (and, wow, hot) Indian film screened too late in the festival for us to cover, but I caught it on SIFF's final Saturday and was absolutely thrilled when I learned it had won the jury prize. It's anti-Bollywood in nearly every way: stark black-and-white is (mostly) subbed for the usual candy-color, experimental hip-hop music and dance for elaborately-staged songs and moves, and decidedly family-unfriendly elements (full-frontal nudity, graphic sex, realistic depictions of poverty and drug use) for jubilant extravaganzas that end happily. Oh, and the title means "asshole". It was the most dazzlingly original feature I saw at SIFF 2011, though it doesn't go down easily and it certainly isn't for everyone. But if you enjoy being challenged by cinema, you'll appreciate this glorious achievement.
7:30 PM: Simple Simon
Winner: Best Actor, Bill Skarsgård – SIFF 2011 Golden Space Needle Audience Awards
We didn't get around to reviewing this Swedish box-office smash about an 18-year-old with Asperger's who develops a scientifically perfect plan to find his brother a girlfriend. Bill Skarsgård, who plays the titular teen, is the brother of True Blood star Alexander, and son of A Somewhat Gentle Man and King of Devil's Island lead Stellan; I bet they'll be jealous of his Golden Space Needle!
9:30 PM: Best of SIFF Shorts
A selection of audience and jury favorite short films, including audience award-winner The Fantastic Flying Books of Mr. Morris Lessmore, amazing paper-cutout animation (and Grand Jury prize winner) The Eagleman Stag, documentary short winner Library of Dust (one of the films Rich singled out in his Shortsfest preview), and the bittersweet gulp of a gay coming-of-age film Cappuccino.
SATURDAY, JUNE 18
11:00 AM: Being Elmo: A Puppeteer's Journey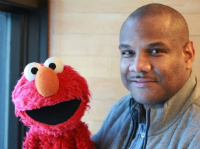 Winner: SIFF 2011 Lena Sharpe Award for Persistence of Vision
Elmo wasn't yet in residence on Sesame Street during the years of my viewership, but many familiar '70s-'80s children's-TV icons (both flesh- and felt-based) make appearances in this disarmingly touching documentary. Its main subject, the genius Kevin Clash, followed his childhood dreams outta Baltimore and into the NYC children's-TV world, eventually giving a second life to (at the time) lesser character Elmo beginning in 1984. Astonishing archival footage of Clash's rapid rise includes rare behind-the-Muppets glimpses of where the air is sweet (both in the US and in France!), of late puppeteer (and Big Bird designer) Kermit Love, and of the master Jim Henson himself. If you were ever an American child, Being Elmo will chase the clouds away.
1:00 PM: To Be Heard
Winner: Best Documentary – SIFF 2011 Golden Space Needle Audience Awards; Special Jury Prize – SIFF 2011 Documentary Competition
This documentary, which focuses on trio of friends and classmates from the Bronx who attempt to use their gift for language (via something called the Power Writers Program) to escape from their seemingly predetermined futures, unfortunately didn't hit the TIG radar. But check out the Jury Statement: "By filmically living with and sharing the dramas of a remarkably affecting group of young people over a period of years, To Be Heard wins the hearts of viewers with a roller coaster emotional ride…it's [sic] immediacy and poignancy make it a film that truly lives beyond the frame."
3:30 PM: Tilt
This Cold War-era Bulgarian film follows skateboarders Stash, B-Gum, Angel, and Gogo; they dream of turning their clubhouse into a pinball arcade, and set out to do so via a multitude of street hustles, from stealing appliances to selling porn vids on the Black Market. And then Stash falls for a girl who happens to be the daughter of a local police captain. Sounds promising, but we weren't able to cover it. (Damn, what did we see? Oh yeah, lots.) Not a big award-winner, but Tilt was evidently very well-received by SIFF audiences.
5:30 PM: On the Ice
Winner: FIPRESCI Prize – SIFF 2011 New American Cinema Competition
Barrow, Alaska teens Qalli and Aivaaq return from a seal hunt with the news that their friend James fell into the sea; after several unsuccessful searches, Qalli's cop dad becomes increasingly suspicious of his son's involvement in the incident, leading to an inevitable showdown between Qalli and Aivaaq over what really happened on that desolate ice. There's never a doubt about the ultimate outcome, but On the Ice's chilly and ominous score accompanies stark visuals and a fascinating setting, working to join disparate elements and fill empty spaces left by story flaws and less-than-perfect performances. Glimpses into these characters' frosty day-to-day lives prove even more haunting than the screenplay's Hitchcocky crime suspense. One of my SIFF 2011 favorites and a worthy recipient of the FIPRESCI prize.
8:00 PM: Paper Birds
Winner: Best Film – SIFF 2011 Golden Space Needle Audience Awards
Neither Rich nor I agreed with the SIFF audience on this period drama about a traveling entertainment troupe in post-civil war Spain. In his SIFF Take, Rich noted the "impressive visual look and art direction" but was turned off by the film's overwhelming music and the story's uneven melodrama. I concur. Still, a lot of folks obviously seemed to like it and you might too.
SUNDAY, JUNE 19
11:00 AM: Circus Dreams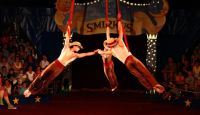 Winner: Best Films4Families Feature – SIFF 2011 Youth Jury
This big-buzz documentary fell off my schedule somehow and I'm glad to have the opportunity to see it this weekend. It offers an unprecedented peek behind the scenes at the fun and determination of the kids who perform in Circus Smirkus, the only traveling youth circus in the US. As I understand it there are clowns, trapeze artists, jugglers, and other types of entertainers to be amazed by. And if the SIFF description is to be believed, the film "perfectly balances the fun of circus performance with insightful, behind-the-scenes drama and its message that dedication to your passion translates into talent and ambition — no matter what the age."
1:00 PM: How to Die in Oregon
Assisted suicide is a tough subject, and seeing it happen before your eyes — yes, one such documented instance is shown in the opening scene — is a tough undertaking. But death isn't the focus here: patients, families, caregivers, advocates and opponents give unique insight into what it means to be alive, and to recognize a "new normal", in the wake of a terminal diagnosis. The heart and soul of the doc is 54-year-old Cody Curtis, whose unbelievably upbeat humor is used as a weapon against the debilitating symptoms of liver cancer. The tired old phrase "a celebration of the human spirit" is used in the SIFF program description, and it actually applies to this informative, thoughtful, extremely moving film. Break out a fresh pack of Kleenex and arrive with an open mind.
3:30 PM: Life in a Day
Do you remember what you were doing on July 24, 2010? If you'd submitted a video to this YouTube / Kevin MacDonald / Tony and Ridley Scott project, I bet you would. The whittling down of 80,000+ user submissions to the 300 that comprise Life in a Day was as amazing feat; on view in the fast-moving, very pretty finished product are individuals from around the globe preparing meals, working, raising children, arguing, worshipping, skydiving, partying, and (in some of the most profound moments) simply conversing. If it all feels a bit "We Are the World" at times, just know that it won't be long before you're gasping, weeping, giggling — maybe all at once.
5:30 PM: Old Goats
We reviewed quite a few of SIFF's (rather weak, in my opinion) local offerings this year — but not this one. Shot in and around Seattle, it follows three elder men (local actors Bob Burkholder, David VanderWal, and Britt Crosley, each playing themselves) who refuse to go quietly into the night of retirement: one is writing a memoir about his life as a soldier, one schemes against his nosy wife, and one tries to find love on this new-fangled thing called the internet. Per the SIFF description, it "finds humor in the everyday foibles of retirement life, providing a refreshing perspective on the golden years through the eyes of three men who don't feel (or act) anywhere close to as old as they look." OK?
8:00 PM: King of Devil's Island
Does SIFF stand for "Skarsgård International Film Festival"? Cuz there sure were a lot of them around this year. In this one it's Stellan, who plays the warden of a Swedish island juvy-prison called Bastøy  Boys Home; it's all about using hard work, discipline, and brutal punishment to turn the delinquents into upright citizens. A headstrong (and, assuming the actor is of legal age, quite hot) new inmate arrives, butts heads with the guards and earns the respect of his fellow inmates. Then a tragic series of events initiated by a sadistic dorm master eventually incites the young men to overpower their captors and demand fair treatment. A strong and fast-moving based-on-reality story that moved me but wasn't quite successful in its attempt at a hostile takeover of my emotions.
Note: Best Documentary Grand Jury Prize winner Hot Coffee is a notable omission from the Best of SIFF weekend, probably because it will begin airing on HBO June 27. Keep an eye out; it's a 2011 highlight and a must-see film.
{Best of SIFF 2011 screenings take place June 17-19 at SIFF Cinema.}