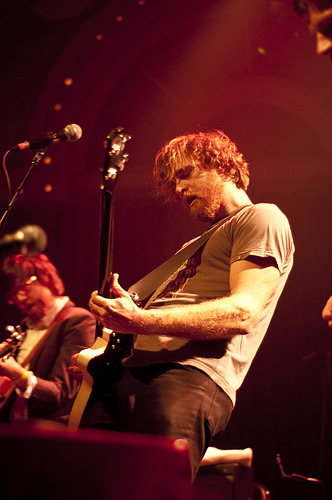 We couldn't be more excited for our inaugural show at the Neptune this Saturday — because none other than the mighty Okkervil River will be taking the stage, and we're planning to be there front and center (with bells on).
The combination of one of our favorite bands and the newest, most anticipated room-opening since Columbia City Theater has us chomping at the bit and ticking off the hours until show time, as this will likely be 2011's biggest and brightest example of two great tastes that taste great together. Emotionally speaking, it's the chocolate in the peanut butter moment we've been waiting for since news of the Neptune's reduxing process came to the surface earlier this year. And not only will we have a night with OKR on the docket, which could be taking place in a dilapidated flophouse and still be capable of melting our faces off, ps — but we'll be seeing them perform fresh off the incredibly successful release of I Am Very Far.
IAVF proves that, like many a fancy substance, this band just keeps getting better with time. All too often bands will follow that incredible release / mediocre release / slump / comeback pattern that leaves you wishing for more of what they used to do "back when they were still good" — thankfully, Will Sheff & Co. have not fallen prey to that cycle. Each album they put forth showcases a new sound, a new direction, and a new version of their creative process that keeps us coming back for more.
Not pumped up enough yet? Well, here's one of our favorite tracks to get you in the mood for Saturday:
Tickets, by some miracle, are still available! Get 'em while you still can — we'll see you at the show!
{$20 adv / all ages balcony, 21+ floor / 8p. Photo of Okkervil River at Musicfest NorthWest 2010 by Victoria VanBruinisse.}