I've got some good news and I've got some bad news…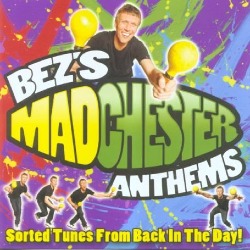 First… the bad news:
Happy Mondays have announced that BEZ will not be performing with Happy Mondays at Coachella Festival (their first US show in 15 YEARS!).
Due to tightening immigration and working visa legislation, Bez was not able to secure a visa to perform at Coachella this weekend. Bez will however be appearing in the UK in May with Happy Mondays on their sold out UK tour.
Is anyone surprised that it is BEZ who couldn't make it through tightened International security? I can't wait to read that tell-all book!
The good news!
There's still one more night (TONIGHT!) to see Brown Derby's production of Trapped in the Closet. I saw it last night and have since been trying to figure out if I have enough time to see it again tonight (before I head to the Elf Power show). The cast, set, narration is BRILLIANT! They really brought the R. Kelly classic to life and in the process made the funniest, smartest piece of theater I've ever seen… and that includes the time when I saw Ann-Margaret star in The Best Little Whorehouse in Texas at the Paramount theater!