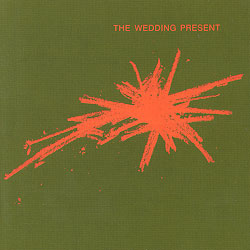 You know those bands that always seem to be there for you when your heart gets mangled? The band that gets your groove back in gear? For me, that's the Wedding Present.
The wonderful thing I've come to learn over the years? The Wedding Present is *that* band for a bunch of you too!
It's a strange and glorious fact that Bizarro, the Wedding Present's classic second studio album and the one that includes our favorites like "Brassneck" and "Kennedy" (to name a couple), will turn 21 years old this year. To celebrate, Gedge and company will be playing the album live, in its entirety, at concerts across North America, Japan and Europe (full tour shed-jule below). Obviously, those of us in Seattle are counting the days until April 21 when the Wedding Present is set to play the Crocodile.
We here at Three Imaginary Girls, especially me, want to mark the occasion here as well! Let's gather forces and geek out all Bizarro stylee!
Here's the idea: Send me a few sentences, a paragraph, or a story about a favorite song from the Bizarro album.  Tell us all about why the song (or songs – feel free to take on more than one!) rules or how it has affected you. It can be short, long, quirky, solemn, desirous, uplifting or clinical (i.e why the particular chord progression is magical).
Then, leading up to the Seattle show, we'll publish "The Bizarro Series" to share the stand-out posts on Three Imaginary Girls. I'm particularly excited because it could turn into a week's worth (or longer) of geek out Wedding Present bliss… or, if none of you are into this idea, it could end up being me transcribing diary entries from the mid-90s detailing some dark days ("Oh you know I'm crushed inside…"). It's your choice…
Send your entries, however long or short about one or more Bizarro songs, to me at tig @ threeimaginarygirls . com with the subject line of Bizarro: SONG TITLE before March 19, 2010 and we'll start posting them in April.
In case you don't have your vinyl version of the album on your person, here's the original LP tracklist:
Side A:
1. Brassneck – 4:51
2. Crushed – 2:32
3. No – 4:11
4. Thanks – 2:22
5. Kennedy – 4:20
6. What Have I Said Now? – 5:18
Side B:
7. Granadaland – 4:50
8. Bewitched – 6:42
9. Take Me! – 9:15
10. Be Honest – 2:37
It would be great to hear your Bizarro story… but regardless if you partake in storytime, I'll see you at the Crocodile on April 21!
Will shorts be worn this time? {I love the moment at 1.20 in this song}
[video:http://www.youtube.com/watch?v=0aNW8UgsZMk]